You are here
Contraceptive Transition Theories 

Virtual Expert Group Meeting, 16, 23, and 30 October 2020
The goal of the IUSSP Panel on Contraceptive Transition Theories is to specify and critique theoretical perspectives on the forces that drive historical change in the prevalence of contraception.  Pace of change and trajectories of change are the empirical facts to be explained.  These are known to vary across societies – generating theory that explains this variation is the aim, with particular attention to those societies where prevalence of modern contraception remains low (notably many countries in sub-Saharan Africa).  Ultimately the panel aspires to produce a relatively unified explanatory framework.

To start the process toward the achievement of this goal, the panel organized an "expert group meeting" in October.  The aims of this first meeting were to identify in simplified and brief form the major contending theoretical perspectives on contraceptive change.  The meeting was designed to be inclusive in terms of scholarly disciplines and to encourage creative exchange.  

The program for the meeting consisted of nine topics, each with reference to contraceptive change and its determinants:  (1) Overview of empirical patterns; (2) Economic development; (3) Political and cultural systems; (4) Societal crises (disease, civil unrest, economic crisis); (5) Health transition; (6) Gender roles and reproductive autonomy; (7) Fertility preferences; (8) Patterns by age/parity, stopping vs. spacing, and method type; (9) Policies, programs, new technologies.
Ten invited scholars contributed brief written pieces as well as oral presentations on the nine discrete topics.  The scholars were:  Vladimira Kantorova (United Nations), Mahesh Karra (Boston University), Alaka Basu (Cornell University), Georges Guiella (Université Ouaga I Pr Joseph Ki-Zerbo), Caroline Moreau (Johns Hopkins University), Shireen Jejeebhoy (IUSSP Vice President, India), Zeba Sathar (Population Council, Pakistan), John Bongaarts (Population Council, New York), Teresa Castro-Martin (Spanish Research Council), and Eliya Zulu (AFIDEP, Kenya).  The seven members of the panel, and Council liaison Suzana Cavenaghi, were also active participants in the meeting.  

The meeting occurred in three separate virtual sessions (16, 23, and 30 October), ranging in length from 90 minutes to 150 minutes.

Following this first meeting, the panel is in the process of writing a report that will set the terms for the subsequent work of the panel.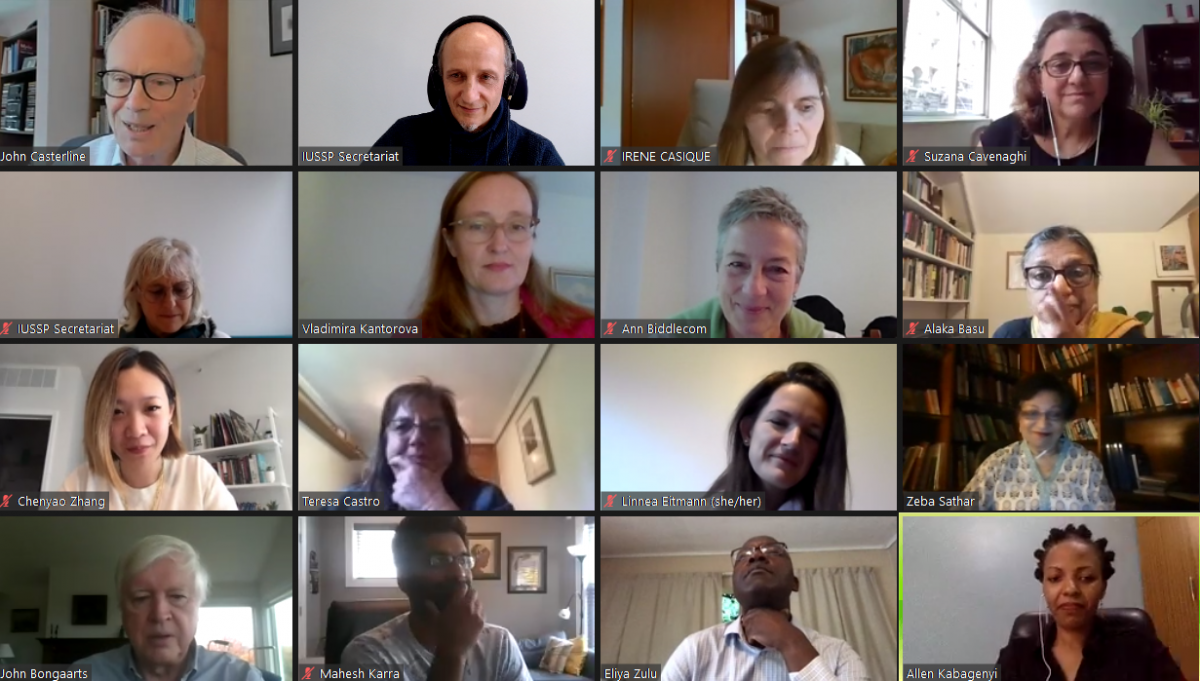 IUSSP Scientific Panel on Contraceptive Transition Theories: Models for contemporary patterns of use
Chair: John Casterline (Ohio State University)
Members: Ann Biddlecom (Guttmacher Institute), Irene Casique (Universidad Nacional Autónoma de México), Jamaica Corker (The Bill & Melinda Gates Foundation), Nathalie Sawadogo (Université Joseph Ki-Zerbo, ISSP), Allen Kabagenyi (Makerere University, Institute of Statistics And Applied Economics), Chander Shekhar (International Institute for Population Sciences)
Council Liaison: Suzana Cavenaghi (Independent Researcher)
English