You are here
Directory profile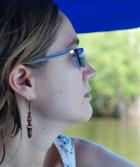 Address:
CISAN - Torre II de Humanidades piso 10
CU
Mexico DF, 04510
Mexico
Nationality:
Romania, Mexico
Female
Membership Number :25059
Field of study: International Relations
Regional focus: Latin America and the Caribbean, United States and Canada
Highest Degree Level:
Doctorate (Ph.D, MD), Social and Political Science, National Autonomous University of Mexico, 2007
Working languages:
- Spanish
- English
- Romanian
- French
Professional summary:
Camelia Tigau has a PhD in Social and Political Science (2007) and an MA in Communication at the National Autonomous University of Mexico (2004). She was awarded a diploma in international journalism by the Dutch and Danish Schools of Journalism (1999). She also undertook a postdoctoral research on scientific diplomacy (2007-2009). She currently works as a full time researcher on skilled migration at the Center for Research on North America (CISAN), where she undertakes the project "Brain circulation in North America. The case of highly qualified migration (HQM) in Mexico ". She also teaches at the Faculty of Social and Political Science of UNAM. She is the author of two books on diplomacy (2009) and brain drain (2010), both in Spanish language.
Publications:
Books in Spanish:
Diplomacia en la era digital. La ayuda alimenticia como maniobra neoliberal. México: UNAM/ CISAN y Editorial Cenzontle, Colección "Leyendo al mundo". ISBN 978-970-9929-19-5
¿Fuga de cerebros o nomadismo científico? México: UNAM/ CISAN. ISBN 978-607-02-1742-5
Articles in English;
"Circulation of a Highly Qualified Workforce in Latin America: A Focus on the Mexican Diaspora". Latin American Essays, Pittsburgh, Pennsylvania. Vol. 25, 2012
Dossier "Mexican migration to Canada. Statistical Data and Interview with Chona Iturralde, Citizenship and Immigration Canada (CIC)". Contribución especial, Revista Norteamérica. Año 6, no 1, enero-junio de 2011, pp. 189-204, ISSN 1870 3550
¨Mexican Brain Drain to the US and Canada¨, Voices of Mexico, no.92, octubre – diciembre de 2011, pp. 39-43