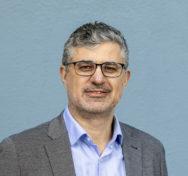 The European Doctoral School for Demography (EDSD), is happy to announce that Albert Esteve, director of the Center for Demographic Studies-CED in Barcelona, Spain, is the new rector of EDSD.  Albert has a long history with the school. CED, one of the leading demographic research centers in Europe, hosted the EDSD from 2011 to 2013,  and again since the season 2019-2020 until now.
 As director of the EDSD at the CED and member of the Scientific Advisory Board, Albert has been one of the driving forces to bring the school to its present position as an excellent international one-year training centre for students pursuing doctoral studies in demography. 
Albert is also one of the leading demograpers in Europe. He has carried out research stays at the University of Minnesota, at the Institute National d'Études Démographiques in Paris and at Princeton University. He has just obtained an Advanced Grant CORESIDENCE from the European Research Council. His research interest are related to demography, couple formation, marriage markets and the structure of households, both nationally and internationally. His publications can be read in journals such as the Annual Review of Sociology, World Development, Population Development Review or Demography, among others. He has also been editor of the European Journal of Population. Albert is also a member of the 2018-2025 IUSSP Council.
The appointment of a new EDSD rector was necessary since the founding rector, Jim Vaupel, passed away earlier this year. Albert will hold office for a period of 5 years.