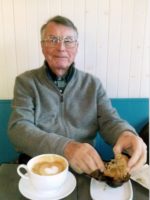 It is with deep sorrow we announce the passing of Anatole Romaniuc, at home in Ottawa, after an incredibly rich and fortunate 94 year life.  An IUSSP member since 1980, he was the loving husband of Maria Romaniuc (nee Teofilovic), proud father of Lara (Paul Saurette) and Alex (Rachel Creane), and ecstatic 'Koko' to his grandson Belmont (or 'Penchyk' as he was fond of calling him) – who always inspired bursts of laughter from Anatole…and vice versa.
His life was truly an adventure from start to finish. Born in 1924 in Ukraine (in what was formerly Bessarabia and part of Romania), he not only lost his own father early in life, but was forced to flee across Europe during the second world war, an experience that included successfully escaping both the (precursor to) the KGB and the Gestapo (twice!) and being separated from his mother and sister for 16 years because of the war. 
He began his career as a demographer in the Belgian Congo, as Chief of the Demography Bureau (1953 – 1961), where he led the first population census in that country. With the independence of the Democratic Republic of Congo he joined the 
University of Kinshasa
 as a researcher while continuing to serve the Congolese Central Government in his capacity as adviser on population to the Minister of Planning and Economic Coordination.
In 1961, he was recruited to Princeton as a research associate (leading him to learn his 6th language – English) and then, in 1964, decided to move to Canada because he found it a welcoming country while visiting for an academic conference.
In Canada, he pursued an academic career as Professor at the University of Ottawa and the University of Montreal. He occupied senior positions at Statistics Canada (1968-1993), including as Director of the Demography Division.
He was Fellow of the US Population Council (1961–62), President of the Federation of Canadian Demographers and a longstanding member of the International Union for the Scientific Study of Population. He was honored for his many contributions to international and Canadian demography with a special issue of the Canadian Studies in Population.
In 1970, while in Montreal, he met and married his love, Maria. There they welcomed their son Alex.  Soon after, they made a permanent move to Ottawa, where they welcomed their daughter Lara and made their home for the next 46 years.
Anatole retired in 1993 after a long and illustrious career at StatsCan. Never one to ride off into the sunset, Anatole immediately took up a position as an adjunct professor at the University of Alberta and spent the next 20 years researching and publishing extensively – completing his final article less than a year before his death.
No matter how busy he was professionally, however, he always found time and energy to help and mentor all those around him. In fact, as his children can attest, no matter was too small for Anatole to offer some friendly advice – whether solicited or not.  As he used to say, you don't have to 'listen to me', but you do have to listen to me ;)
We will always treasure our memories of his loving and generous spirit, as well as his 'never-say-die' determination. 
---
Also read the In Memoriam from Frank Trovato of University of Alberta.