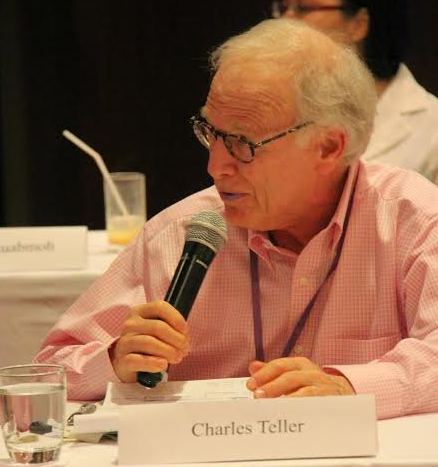 We were saddened to learn that Charles Heinroth Teller, IUSSP member since 1979, passed away on Thursday, August 28, 2014 at the age of 73. Charlie was an active IUSSP member. He participated in many IUSSP conferences and seminars and served as a steering committee member of the Population and Environment Research Network (PERN). 
This past April (2014), he presented a paper on livelihood strategies and adaptation to drought in Ethiopia at the IUSSP Seminar on Demographic Differential Vulnerability to Natural Disasters in the Context of Climate Change Adaptation. 
Charlie had a long and distinguished career in development serving as Senior Technical Advisor in the USAID Office of Population and Reproductive Health, Population Reference Bureau (PRB)  Bixby Visiting Fellow, director of the United States Peace Corps in Ethiopia, and Visiting Professor at the Center for Population Studies at Addis Ababa University in Ethiopia. Until recently, he was teaching courses at George Washington University and supporting students and researchers at Addis Ababa University. 
Members' Testimonials and Tributes
---
While Charlie was at PRB, I had the incredible experience of traveling with him in Ethiopia.  His commitment to understanding the complexities of population, development, and environment relationships was unmatched, and as we traveled in the southern region he engaged people wherever we went, speaking with them in Amharic, joking, and laughing. 
Charlie was a kind and thoughtful mentor. He challenged me to overcome my assumptions about population and development issues, and I relied often on Charlie for feedback. Charlie was always quick to help, and his input was tough and critical but invaluable.  He always pushed me to do better, and I'm thankful for his energy and support.    
Lest you think Charlie was slowing down as he got older, let me share that he was teaching at GW, , publishing new research, and helping us get new PRB demographic dividend work started in Ethiopia.  He recently returned from a few weeks in Brazil watching the World Cup …and of course he could still beat me at tennis!
Thank you Charlie.
Jason Bremner
---
Charles H. Teller was a remarkable man: scholar, activist, family man, athlete, linguist, musician, research mentor, and enthusiast about just about everything.  Dr. Teller had a long and distinguished career in improving policy and people's lives in poor countries.  He published  and spoke professionally  in English, Spanish, and Amharic, and could have as well in Tagalog and Hebrew. Most recently, until his death, Teller was Adjunct Professor at both the Addis Ababa University and the George Washington University.  No matter the intellectual passions of the moment, Charlie was never so animated over the years as when a classroom of students or a gaggle of co-authors were engaging his considerable talents as teacher and mentor.  More, I think, than his 107 publications, more than the 50-odd countries of the world he worked in, more than the many national and international organizations he worked and consulted for, more than all these, I think the challenges and victories in teaching and mentoring were really Charlie's passion.
Professor Teller's professional specialties were migration early on, and then nutritional assessment, food security, and maternal and child health.  He always wanted to know what the data say, beyond the considerable data and analysis he, himself, produced. Spanning all these fields of inquiry and policy, he developed in the last two decades an overriding interest in monitoring and evaluation, M&E as we call it.  He insisted that policy interventions in nutrition and health be accompanied by systematic evaluations designed to reveal what works and what does not work, what is a candidate for scaling up to national levels and what would be a waste of money and talent.  These efforts were not always fully appreciated.  I think some good colleagues tired of his single-minded emphasis on evaluation, a costly activity that frequently gets in the way of getting the main job done right now.  Charlie emphasized that this main job may help its immediate clients but can usually go no further without empirical evidence—data and analysis—pointing to what works and what does not.
Dr. Teller: What a career!  Charlie Teller: What a life!  Carlos: What a friend!
Bill Butz
---
I came to know Charlie Teller in the mid-2000s when I started working in Ethiopia for the World Bank. Charlie was an incredible source of knowledge and wisdom on Ethiopia. Not only he knew everything one could imagine about this fascinating country, but he knew personally all Ethiopian scholars in the field of population (broadly defined as encompassing nutrition, food security, environment, culture, religion, and so forth). He also spoke fluent Amharic, which gave him a huge advantage. His main legacy in Ethiopia is to have nurtured an impressive generation of Ethiopian population scholars.  This is attested by his impressive book on Ethiopia, co-edited with Dr. Assefa Hailemariam, which was published by Springer in 2011. And I hasten to say that Ethiopia was just one facet of this amazing Renaissance man. We shall sorely miss Charlie, his enthusiasm, his humor, his curiosity, in short his respect of others as well as his true passion to make the Earth a better place.
John F. May
Visiting Scholar
Population Reference Bureau