Demographic microsimulations in R using SOCSIM
New Orleans, United States, 12 April 2023
The IUSSP Scientific Panel on Digital and Computational Demography organized a member-initiated meeting on "Demographic microsimulations in R using SOCSIM: Modelling population and kinship dynamics" on 12 April 2023, in New Orleans, United States, as part of the 2023 Annual Meeting of the Population Association of America (PAA). The workshop was organized together with the Max Planck Institute for Demographic Research (MPIDR), which also provided financial support, and included 20 external participants and seven members of the organizing committee.
The main objective of the workshop was to launch the R-language package 'rsocsim:' a user-friendly software for running demographic simulations (https://github.com/MPIDR/rsocsim). Rsocsim is a contemporary implementation of the venerable SOCSIM microsimulator, originally developed at UC Berkeley in the 1970's, which has been used extensively to study kinship dynamics in demographic research. The new release intends to make the software more accessible to a wider audience by producing updated documentation and integrating the simulator into the open source R-environment. 
Diego Alburez-Gutierrez, lead organizer, kicked off the workshop, followed by Ridhi Kashyap who, as chair of the IUSSP Scientific Panel on Digital and Computational Demography, welcomed the participants. Then Emilio Zagheni highlighted the commitment of MPIDR to the initiative and shared an inspirational speech prepared by Ken Wachter (UC Berkeley), who was among those who spearheaded the original development of SOCSIM. Following this, Ashton Verdery from the Department of Sociology and Criminology at Penn State University, delivered his keynote speech 'Microsimulation and its Discontents.' The keynote outlined the long history of simulation in demography and presented exciting opportunities for using this approach to study kinship structures in our contemporary world.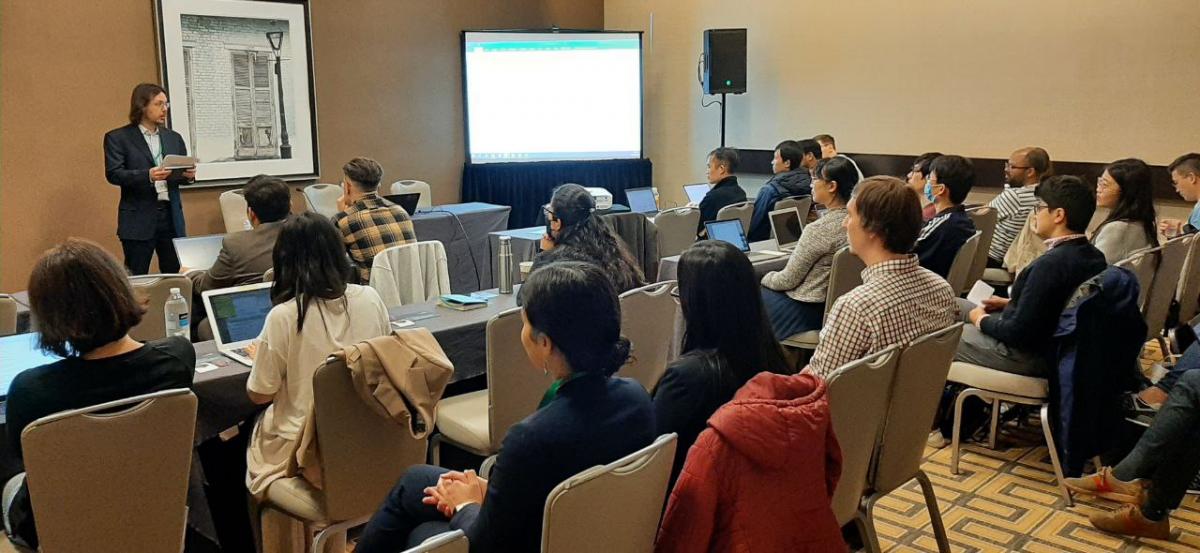 The hands-on component of the workshop started with a presentation by Tom Theile, software developer at the MPIDR, explaining the general logic of the rsocsim simulator. Later on, Liliana P. Calderón-Bernal, PhD candidate at the MPIDR and Stockholm University, showed participants how to run a simple SOCSIM simulation using publicly available data and code. Mallika Snyder, PhD candidate at UC Berkeley, explained how to analyse rsocsim output using the case of family bereavement as an example. All workshop materials are available to the general public: https://github.com/alburezg/rsocsim_workshop_paa.
The event concluded with a lively exchange with participants, who had the opportunity to share more about their own research interests and how they may integrate demographic simulation in it. 
Organizers:
Diego Alburez-Gutierrez, Max Planck Institute for Demographic Research
Tom Theile, Max Planck Institute for Demographic Research
Emilio Zagheni, Max Planck Institute for Demographic Research
Ashton Verdery, Penn State University
Mallika Snyder, University of California, Berkeley
Liliana Calderon, Max Planck Institute for Demographic Research