You are here
International Population Conference, Cape Town 29 Oct-4 Nov 2017
IPC2017 - Paper selection and next steps
Submissions for the 2017 International Population Conference closed on 15 December. We received 4,572 submissions from 131 countries. In the coming weeks, reviewers will evaluate the abstracts and Session Organizers and Theme Conveners will build sessions for the scientific programme, which will be validated by the International Organizing Committee when it meets in April. Authors of accepted papers will be notified by 15 April. Read on for information on registration, side meetings and exhibits.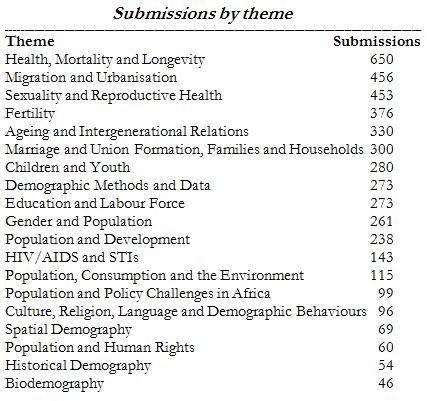 Paper selection
This year, the IUSSP has adopted a new paper review procedure which will involve, in addition to Theme Conveners and Session Organizers, about 100 anonymous reviewers, who will evaluate abstract submissions based on the overall quality and scientific merits of the paper, including the robustness of the data and methods; theoretical, methodological and/or policy significance; and overall contribution to the field.
Theme Conveners and Session Organizers will create sessions and additional sessions as well as poster sessions based on these reviews. The final selection for the scientific programme will be decided by the International Organising Committee (IOC), which will meet in Paris on 12 and 13 April 2017.
Authors of papers accepted on the programme will be informed on 15 April. 
Registration
Registration will also open on 15 April. Please note that member discounts will be available only to members whose membership status is current. For members who did not let their membership lapse since the 2013 IPC, there will be an additional discount on the membership rate in appreciation for their fidelity. We will be writing these members directly. 
Travel Support
Procedures for applying for financial assistance will be provided to all participants on the scientific programme. All participants are strongly encouraged to seek financial support from their own institutions, other national bodies, local representatives of international donors, international institutions and foundations active in the population field. While the IUSSP and the NOC hope to provide a limited number of travel awards, priority for these awards will be given to participants from low-income countries whose paper or poster has been accepted for the scientific programme, or who are serving as chair or discussant, and who are IUSSP members in good standing. 
Side meetings
Side meeting space is available for meetings and workshops all day on Saturday 28 October and Sunday 29 October before the Conference and all day on Saturday 4 November 2017. During the Conference, space for side meetings is available in the evening after the plenary session from 19:00 to 21:00, with the possibility to stay as late as 23:00. For more information: Side Meetings
Exhibit booths
The International Population Conference will offer unparalleled opportunities to both commercial and non-commercial organizations to showcase their products and services. For more information on sponsorship and exhibition packages as well as advertising opportunities: Exhibits
Research Leader Sessions
For the first time, the IUSSP is offering the opportunity for a limited number of organizations working in the population field to organize a 90-minute session as part of the regular scientific programme of the conference to highlight research carried out or supported by their institution. The deadline to submit a proposal is 1 March 2017. For more information: Research Leader Sessions
Important dates:
| | |
| --- | --- |
| 15 April 2017: | Author notification of paper abstracts accepted in programme |
| 15 April 2017: | Registration for Conference opens |
| 15 May 2017: | Deadline for submitting applications for Travel Grant support |
| 15 June 2017: | Participants informed of Travel Grant Awards |
| 15 June 2017: | Deadline for accepted authors to register |
| 15 July 2017: | Deadline to request facilities for side meetings and exhibition space |
| 15 Sept 2017: | Last day for reduced registration fees |
| 30 Sept 2017: | Deadline for uploading completed scientific document |
| 29 Oct 2017: | Opening Ceremony |
For more information: http://ipc2017capetown.iussp.org/
Read also: 
English