IPC2025 in Brisbane, Australia, 13-18 July 2025.
Report of the IUSSP site visit.
Brisbane, Australia will be an excellent place for the upcoming International Population Conference of the IUSSP that will convene from 13 to 18 July 2025, as was confirmed during a recent site visit.
This past November, IUSSP President Shireen Jejeebhoy, Secretary-General Nico van Nimwegen and Executive Director Mary Ellen Zuppan visited  Brisbane to explore the venue where IPC 2025 will take place. They met with IUSSP Council member Edith Gray, who steered the bid with her Australian colleagues, to tour the conference center and other venues and to meet with city and Queensland officials. In addition, IUSSP members Martin Bell and Elin Charles-Edwards, based at the University of Queensland, showed them meeting venues at the university to host the extensive pre-conference program of project meetings, training and skill-building workshops.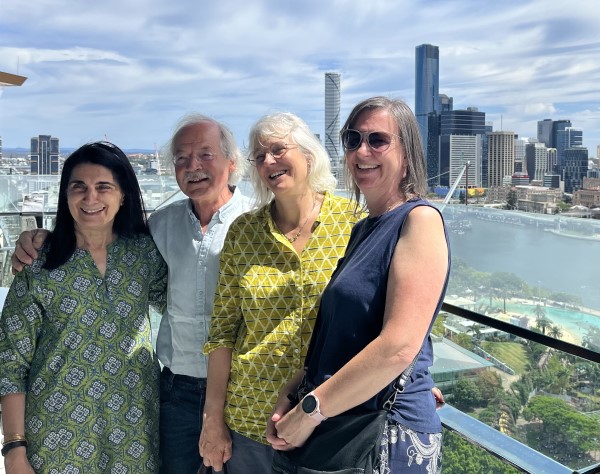 IPC 2025 will convene at the Brisbane Convention and Exhibit Centre (BCEC). BCEC is a state-of-the-art conference facility with EarthCheck Gold Certification for its compliance with the highest environmental standards and its support of social and environmental sustainability. 
Brisbane is a very livable city, especially for those who like to spend time outdoors. The city of some 2.2 million inhabitants has excellent public transport with an Airtrain linking Brisbane International Airport to the South Bank where the Conference venue is located. Just a 2-minute walk from the conference venue is the South Bank Parklands along the Brisbane River offering foot and bike trails through forests and along the riverfront with footbridges to the city center. This unique urban area includes a free public beach and swimming area, places for open-air concerts, and a host of restaurants and outdoor cafes.
After our virtual conference in 2021, IPC 2025 will be an excellent opportunity to reconnect in person with colleagues from around the globe. In addition to the scientific exchanges at the venue, there will be much for participants and their guests to see in Brisbane and its surroundings. Take a ferry ride on the Brisbane River or out to the Lone Pine Koala Sanctuary to view wildlife unique to Australia. Visit the city's museums, many right next to the convention center, or simply enjoy the vibrant outdoor lifestyle. Brisbane is also a great place to launch a trip to the Great Barrier Reef, explore Australia's Sunshine and Gold coasts, or travel to other regions.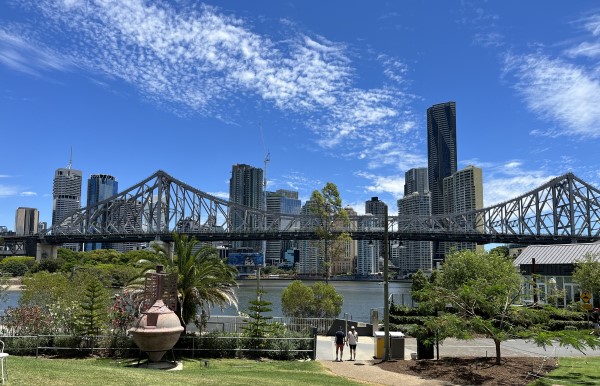 After Brisbane, the IUSSP group traveled to Canberra to meet with Australian colleagues and future members of the National Organizing Committee for IPC2025 who gathered for the Australian Population Conference at the Australian National University. 
The Australian population research community is truly excited to host IPC 2025 and welcome participants from around the globe to Australia. Our colleagues have obtained solid support for the conference at the city, regional, and national government levels and bring creative ideas to build an intellectually stimulating and vibrant conference programme. At the conference, our Australian colleagues would like to spotlight population issues of special concern to the Pacific region, including mortality and health issues, fertility, environment and sustainability, internal and international migration, and indigenous populations. To raise public awareness of population issues, the national hosts also have developed plans for an education outreach program, a media strategy, and public art displays.
IPC2025 will be a once-in-a-lifetime opportunity to visit Australia. The conference will take place the week of 13-18 July 2025 to enable participants with summer breaks to add on a pre or post-conference holiday. Though July is Australia's winter, Brisbane's sub-tropical climate offers dry mild weather with temperatures ranging around 20°C, while sea temperatures on the coast average 21°C (72°F), perfect for a trip to the beach to swim, surf or snorkel to explore the coral reef. 
It is a long trip for most to get to Brisbane, but given it will be almost 8 years since the last in-person IUSSP conference was held in 2017 in Cape Town, South Africa, we hope that many IUSSP members and others working in the population field will put this on their calendars as an event not to be missed.  
To mitigate the environmental footprint associated with travel to Australia, the Australian organizers offer conference participants an opportunity to support the Reef Restoration Foundation and create an "IUSSP Reef'' in the world-famous Great Barrier Reef. The IUSSP Council is exploring possibilities to promote this unique initiative. (See IUSSP's environmental policy.)
As the Council has already started to build the conference programme, we would like to thank all those who have already responded to the Call for IPC2025 session suggestions. We are currently reviewing these proposals and aim to respond to submitters after the 1st meeting of the International Organizing Committee (IOC), which is scheduled for February 2023. And of course, we look forward to your submissions of an abstract when the Call for Papers is announced in 2024! 
---
A few photos from the site visit.