The Laureate Ceremony took place at the European Population Conference, Budapest, Saturday 28 June 2014.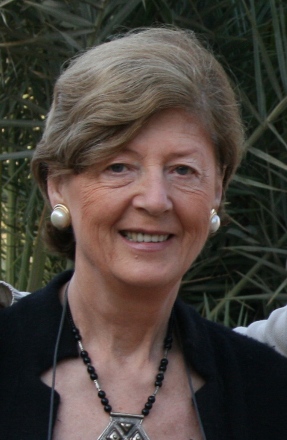 Thérèse Locoh, an active member of the IUSSP since 1965, has been elected the 2014 IUSSP Laureate for her important contributions to demographic research on family, fertility, and gender in Africa. She was one of the first French-speaking demographers to perceive the key role of gender relations in demographic behaviour. As a member of the IUSSP Committee on the Comparative Analysis of Fertility, she helped to organize a major conference and co-edited with Veronique Hertrich, The Onset of Fertility Transition in Sub-Saharan Africa (OE, 1994). She also played key roles in the establishment of population studies in Francophone West Africa and elsewhere notably setting up the Unité de recherche démographique (URD) at the University of Benin, in Lome, Togo in 1975, and later she was involved in establishing  the Union for African Population Studies (UAPS). In France, she worked mainly for the French Population and Development Research Centre (CEPED) and the French national institute for population studies (INED).  Thérèse Locoh retired in 2003 but continues to contribute to research and scientific publications and serves as a scientific consultant for the URD and as a member of the "Culture, Gender and Development" scientific committee of UAPS.  
This is but a very small list of Therese Locoh's many contributions to the field. For a full list of her accomplishments and contributions please read the letter of nomination below.
Therese Locoh. Letter of nomination by Jacques Vallin:
A psychosociologist with a passionate interest in population questions, Thérèse Locoh is the first woman in the French-speaking demographic research community to have acquired a truly international standing. Through her intellect and insight, she has made key contributions to French demographic research in two major areas: African population studies and gender relations.  
A graduate of the Institut de psychologie de Paris, with the title of Expert-demographer and a PhD in demography, she joined INED in 1965 and soon made a strong impression on her colleagues, not least such leading scholars as Alfred Sauvy, Louis Henry and Jean Bourgeois-Pichat. While they yearned for demography to be recognized as a "hard science", she convinced them that scientific demographic research had everything to gain by drawing upon the "soft" sciences such as psychology and sociology. In accepting a job with a demographic research unit, her initial aim was to give greater depth to her early sociological research by learning the techniques of quantitative analysis via demography. In so doing, she revealed the many advantages of adding a qualitative component to quantitative measures which, while fundamental, can also be over-simplistic, be it in the formulation of research hypotheses or the elaboration of explanatory systems.  
The first applications of her interdisciplinary approach concerned the living conditions of elderly rural dwellers. However, soon after her arrival at INED, Thérèse Locoh was invited to teach at the University of Benin in Lomé where she not only fell in love with Africa, but also discovered the paucity of demographic research in the French-speaking African countries. Such research as existed was limited largely to the collection of quantitative data (censuses and surveys) by statistical offices which had little time for scientific inquiry or helping the rare university teachers who endeavoured to train students in demographic research. So Thérèse Locoh's first task was to set up the Unité de recherche démographique (URD), at the University of Benin, for which she quickly received the consent of the competent authorities... but not a penny of cash. Her next challenge was to raise the necessary funds. A tireless crusader for the cause of research, convinced that much can be done with little if qualitative and quantitative approaches are combined in the right way, she successfully persuaded various international funding agencies to support her endeavour. Thus in 1975 was born an institution which was to become, for over two decades, the leading centre of demographic research in Francophone Africa. But that was not all. Thérèse Locoh also set up and, for many years, coordinated the African Interuniversity Network for Development and Population Studies (Réseau interuniversitaire africain pour le développement de l'étude de la population, RIADEP) with the aim of helping other universities in Francophone Africa to train their students in a field of crucial importance for the continent.
After returning to INED, in 1984, Thérèse Locoh was involved in the creation of the French Population and Development Research Centre (Centre français sur la population et le développement, CEPED) and joined it as soon it was set. From there, she pursued and developed her partnership activities with numerous African institutions and played a key role in improving our understanding of demographic trends in Africa. She was especially interested in understanding the reasons for the slow fertility decline on that continent. Her research involved exploring the ways in which changes in family structure and the status of women – non-nuclearization, union instability, early marriage, polygamy, etc. – influence fertility. She also examined the factors behind the unexpected rapid decline that occurred from place to place, revealing the paradoxical relationship between fertility and development. More so than in the social and economic progress of the 1960s and 1970s, the reason, she concluded, was often to be found in the pauperization of the 1980s and 1990s.  
Later, as she grew to understand the importance of women's status in the field of population, Thérèse Locoh turned explicitly to what was becoming a new field of research, that of gender relations. While distancing herself from some of the more extremist initiatives of her feminist colleagues, she was one of the first French-speaking demographers to join forces with those in North America and Scandinavia who perceived gender relations as key in demographic behaviour. With her characteristic patience and persuasiveness, Thérèse Locoh finally succeeded in convincing the researchers at INED – who had initially reacted with amused disdain – that this question deserved to become a research priority within the institution, and in 1998 she set up the Gender, Demography and Society research unit that she headed until she retired in 2003. Moving beyond the asymmetry of feminism, the concept of gender (the social construct of sex) encompasses the relationship between men and women, a key factor in the study of demographic behaviours such as fertility, health and mortality, union and family formation, individual and family migration. Thanks to the projects launched at INED by Thérèse Locoh, French demographers – in association with their Canadian colleagues – and indeed the entire French-speaking research community, are now at the world top level in this field.
An excellent communicator, Thérèse Locoh has taught in numerous French and foreign universities (not only in Africa).  She is probably the INED researcher with the longest list of  doctoral students to her name: most of them international. A spirited advocate for her two great passions – Africa and gender – not only has she tirelessly criss-crossed the world to attend scientific meetings and set up international partnerships, but she and her collaborators have produced an impressive corpus of books and scientific articles that will serve as references for many years to come.  
Thérèse Locoh has also played a major role in the scientific publication of demographic works. In Lomé, she launched the journal Études togolaises de population and after returning to Paris she worked as editor of Études du CEPED and sat on the editorial committees of Politique africaine and Études de la population africaine. She has also personally edited or co-ordinated numerous multi-author works.
Last, alongside her scientific activities, she has always contributed actively to the life of the research community, both within INED and elsewhere, be it in elective office (INED researcher assessment commission), as a committee member (Scientific Council of the Institut français de recherche en Afrique, IFRA ; Scientific Council of the Institut du Sahel) as an international expert (United Nations Population Fund, UNPF), within international associations of demographers (Union for African Population Studies, UAPS; European Association for Population Studies, EAPS; and of course the IUSSP), or at the head of expert scientific commissions.
A loyal member of the IUSSP since 1965, Thérèse Locoh has worked with unstinting energy to ensure that her extensive knowledge of the family, fertility and gender, enriched by her experience in Africa, is made available via the Union to the widest audience. With her African colleagues, and in a spirit of collaboration with the IUSSP, she set up the Union for African Population Studies (UAPS) after the regional conference in Accra (1971). Rewarding these efforts, a second African Population Conference, co-organized by UAPS and IUSSP, was held in Dakar in 1988. As a member of the IUSSP Committee on the Comparative Analysis of Fertility headed by Hilary Page, she helped to organize a major conference in Harare (1991) after which she edited, with Véronique Hertrich, a selection of the best papers in the highly acclaimed volume, The Onset of Fertility Transition in Sub-Saharan Africa (OE, 1994). For the International Population Conference at Salvador de Bahia in 2001, she organized three sessions on gender with Maria-Eugenia Cosio-Zavala.  That same year, the IUSSP Council asked her to examine the question of promoting gender in research more broadly among IUSSP members. In her 2002 report, she pointed out that gender was an increasingly important component of demographic research and that several more years of attention to this question were needed to ensure that gender relations were systematically included, whenever relevant, in the scope of demographic analysis. This report served as a basis for the creation of a new IUSSP scientific committee on that topic.    
After reaching the top research grade (Directrice de recherche de première classe) Thérèse Locoh retired in 2003, but has remained very active at INED and beyond. She continues to contribute to the research programme of the Gender, Demography and Society research unit and to play an active oversight role in scientific publishing, not only on the editorial committee of the INED book collections, but also as co-editor of the journal Travail, genre et sociétés, for which she coordinated the April 2011 feature on the "Exploited South". She is still active internationally, as a scientific consultant for the URD and as a member of the "Culture, Gender and Development" scientific committee of the UAPS.
After her retirement, which was celebrated by an article in Travail, genre et société (Féminisme et développement : le regard d'une démographe), INED paid an exceptional tribute to Thérèse Locoh with the publication of an imposing volume entitled Du genre et de l'Afrique, hommage à Thérèse Locoh (INED, 2009). The number and quality of its co-authors are a testimony to her extraordinary charisma.   
For all these reasons, we wish to nominate Thérèse Locoh to receive the 2014 IUSSP Laureate Award.
Paris, 30 Oc tober 2013
Jacques Vallin (France)