Laureate 2015 Cheikh Mbacké
The IUSSP Laureate award ceremony for Cheikh Mbacké took place at 2015 PAA Annual Meeting in San Diego (CA) on 29 April.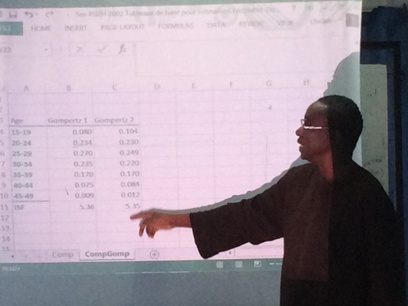 Cheikh Mbacké was selected by the IUSSP Council to be the 2015 IUSSP Laureate in recognition of his outstanding contributions to the advancement of population sciences and distinguished service rendered to the IUSSP. Cheikh Mbacké is honored in particular for his contributions to research in the area population and health policies and his invaluable support to the emergence of a community of African population researchers.
For more information on Cheikh Mbacké's accomplishments and contributions to the population field please read the letter of nomination below.
Nomination letter for Cheikh Mbacké.
Cheikh Mbacké has been a member of the IUSSP since 1989. Since that time, he has been pre-eminent and tireless in his chosen role to develop the research capacity to further spread understanding of critical population issues in the developing world. Most particularly, his work has been vital in supporting the emergence of a community of African population researchers. With his penetrating intellect combined with his abiding sense of fairness and humanitarianism, he rapidly became one of the foremost spokespersons on the African continent for all demographic questions, and especially at the intersection of population and health policies. 
Originally from Dakar, Senegal, he began his formal demographic training at l'Institut National de la Statistique et des Études Économiques (INSEE, Paris), then continued at l'Institut de Formation et de Recherche en Démographie (IFORD, Yaoundé, 1977-79), and then finally concluded his studies at the University of Pennsylvania (1983-86), where he was awarded a Ph. D. in demography in 1986. Through this trajectory he established strong links to colleagues, faculty and the students who were to become the leading demographic researchers, in France, Francophone Africa, and the US. This broad base enabled him in the subsequent decades to understand and nourish the connections between these three nodes, thereby facilitating collaborations within Africa and between Africa and North America and Europe, cutting across language barriers and facilitating collaborations between English-speaking and French-speaking demographers.        
Upon his graduation in 1986, Cheikh Mbacké launched his demographic research career in Bamako, Mali, as a researcher at the Sahel Institute's Unité Socio-Economique et de Démographie, where he led studies on the interaction between migration, health, and mortality. He was part of the small group of demographers at USED who advocated for and successfully transformed USED into the larger and more visionary Centre d'Études et de Recherche sur la Population pour le Développement (CERPOD), still located within the Sahel Institute but with greater autonomy to conduct large scale research studies. In addition to his own research activities, he took on the direction of all training activities for CERPOD. During his tenure at CERPOD, Cheikh continued to play a leadership role in nurturing the development of a vibrant and expanding research program at CERPOD, one which strongly linked high quality studies and analyses to relevant population policies of the member countries of the Sahel Institute. His CV attests to the richness of the research he was able to produce during that time period with colleagues at CERPOD. 
In 1992, his career took a profound turn when he decided to leave CERPOD to take on the task of creating an African population science office for the Rockefeller Foundation in Nairobi. Building on the network of researchers with whom he had studied and worked at IFORD, U-Penn, and CERPOD, he set out to build a bridge between international foundations and African research institutions. He was to devote the next decade of his life to nurturing the growth of a network of African population research institutes and researchers through a carefully designed program of grants from the Rockefeller Foundation, through the Nairobi office. In addition to supporting a vast array of population studies and training programs in Africa, when he became Director of the Nairobi office he took on responsibility for leading all of the Rockefeller Foundation's African grants, adding education, food security and health equity to the portfolio of population grants. Recognizing his gifts for management, he was promoted to Vice-President at Rockefeller Foundation with authority for managing all their regional programs and staff. 
As Vice-President he lived in New York for two years, but the pull back to Africa – his home and the base of his research community- remained strong and in 2005 he retired from the foundation in order to pursue his commitment to African population research. Upon his return to Dakar in 2005 he was very quickly approached by African population research institutes to join their advisory boards, as well as by major international foundations seeking to strengthen their population and health program funding in Africa. Within a few short years he had transformed himself into the most sought after population research advisor to both non-profits and foundations, and had joined the faculty of the Université de Laval (Canada), as an Associate Professor. 
Cheikh Mbacké chose to live in Africa, where he could be near to people and where his knowledge of the population and societies, backed up by his enormous grasp of ongoing African population research, enabled him to identify studies and the most promising routes for implementing effective development strategies and policies for the continent. Though he may have lived and worked essentially his entire career on African soil, this did not prevent him from leading an exceptional international career. His own career trajectory enabled him to create links across continents, to mobilize different partners, to effectively organize integrated research programs in different settings, and to continue to support the development of training programs for all researchers with an interest in population studies in developing countries. Even while taking on more and more administrative responsibilities, Cheikh continued to support young demographers through membership on their thesis committees, chairing sessions at professional meetings, and presenting papers himself at population conferences. The support that the Rockefeller Foundation provided under his leadership contributed to the development of one of the most dynamic population research institutes in Africa, the African Population and Health Research Center (APHRC, Nairobi), which continues to offer an ideal training opportunity for generations of new population researchers. 
Throughout all the different positions and institutions where Cheikh has worked, he has maintained a focus on putting in place institutions and policies which truly respond to the priority needs of the populations. A man of strong convictions, this led him to insist on the establishment of credible and internationally recognized national or regional scientific communities which can work side by side with the local institutions. He insisted that critical decisions about policies affecting health equity, fertility control, population development and well-being be guided by solid, locally-generated statistics and multi-disciplinary studies. This principle of locally based research, so well articulated in his 2013 BMC HSR article on the necessity of African leadership for sustainable health policies in Africa, is the underlying foundation which has given coherence to his long career with its many different roles. It is in the domain of health policies where he has most assiduously worked to strengthen research capacity for evaluating the impact of potential health policies. Cheikh has been involved in supporting the development of population and health observatories for over a decade, as evidenced by the strong role he has played on the scientific advisory committee for the INDEPTH network and specific INDEPTH sites. 
Ever since joining IUSSP, he has been involved in various scientific panels and committees.  Since 1990, he has been a member of the commission, « Population and Health », reflecting the research interests he has pursued since his post-doctoral research at CERPOD. In addition, he has been a member of the Fertility and Family Planning Commission and the panel on Growth and Population Well-Being in Africa. From 2010 to 2013 he was a member of the IUSSP Council. In these successive groups, Cheikh Mbacké has played a decisive role, sometimes as a researcher, presenting and discussing scientific papers, and sometimes as an organizer and facilitator making behind the scenes logistical arrangements. As part of his work on the Council, he has been one of the principal architects of the renewal of the strategy to strengthen training of francophone African demographers, engaging the support of the Hewlett Foundation. As proof of his personal involvement in promoting the training of the next generation of population researchers, IFORD created the « Prix Cheikh Mbacké » which aims to recognize and support the best student research and thereby to stimulate excellent research by young demographers graduating from IFORD. 
Because there has been an urgent need for researchers on African population questions so vital to the continent's development, he has often consented, with remarkable generosity, to put his own research interests second to those which aim to solidify and consolidate the population research infrastructure in Africa. Further, true to his conviction that population research is the hand-maiden to addressing the needs of the most vulnerable and the most disadvantaged, the institutions he created are known for their focus on research and training that will advance development of the poorest. This legacy is seen in the strong commitment to action and policy-oriented research by the autonomous, African research and training institutions and programs he supported, directly or indirectly through his advice.     
Cheikh Mbacké is foremost among demographers who have contributed to the explosion of research in the area of policies linking population and health. His triple culture, first African but also European and American, makes him the ideal navigator for linking population researchers of multiple cultures, both Anglophone and Francophone, too often separated by linguistic barriers. Perhaps it is this triple culture which makes him so very attentive to those he meets, so constructive in his opinions and evaluations. Surely, his attentiveness also reflects his own professional rigor, mixed with his very evident humanity, modesty, and sense of humor. However these have come together, they have made Cheikh Mbacké a well-loved and much respected leader. 
Cheikh Mbacké is, without doubt, the scientist who has done the most to create and sustain an African population research community. From outside and from within IUSSP, he has been the key to the renewed commitment and growth of African population training institutes, a legacy that will continue to produce dividends for generations to come. For all these reasons, we propose naming Cheikh Mbacké as the 2015 IUSSP Laureate.