You are here
Peter McDonald - 2022 IUSSP Laureate
The IUSSP Council selected Peter McDonald to be the 2022 IUSSP Laureate.  The award was bestowed by IUSSP President, Shireen Jejeebhoy, during a virtual award ceremony that took place on 30 June 2022. The ceremony brought together over 100 attendees and included tributes from Peter McDonald's colleagues and former students.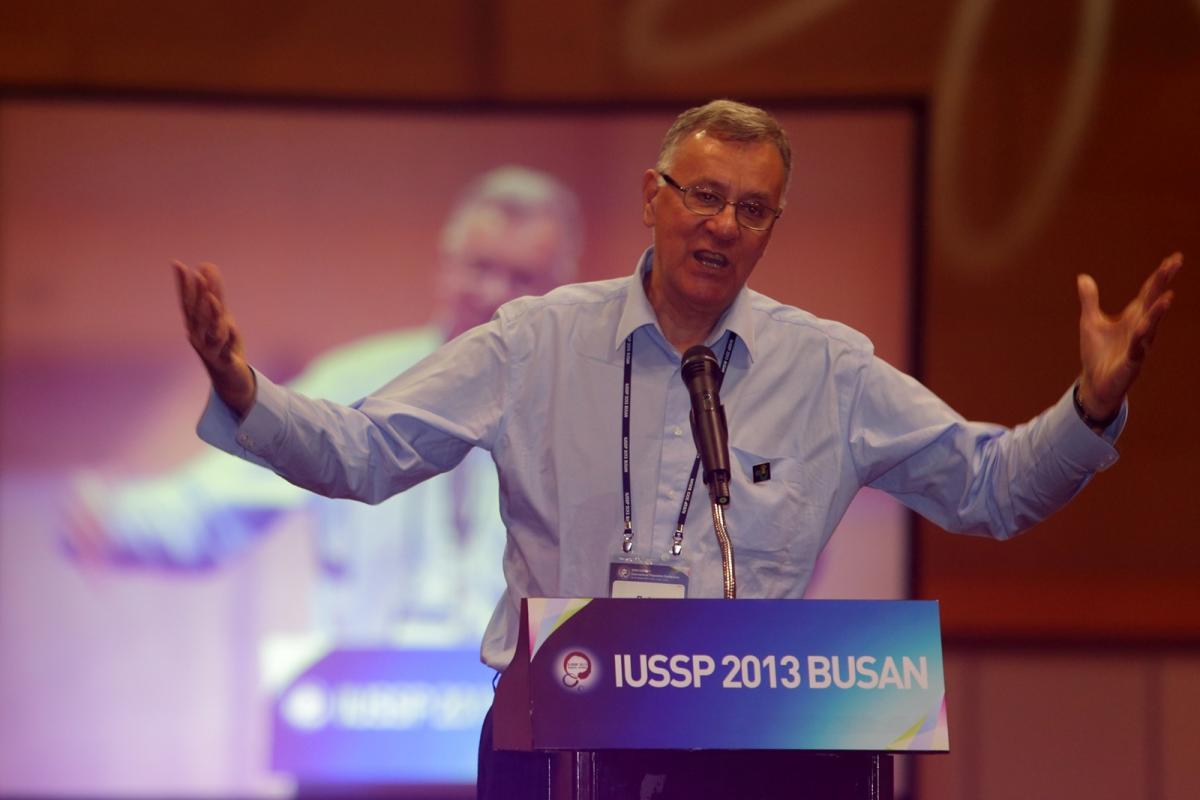 Gavin Jones, for whom this was probably one of his last public presentations, provided highlights of Peter McDonald's early career. John Casterline and Mary Brinton focused Peter's major contributions to research and theory and Jalal Abbasi-Shavazi highlighted how Peter's work provided new understandings of demographic trends. Rebecca Kippen focused on his contributions to demographic training and his role mentoring and supporting students followed by Jeromey Templeton, who spoke about Peter's service to governments and contributions to policy.  The ceremony also included remarks by former students, Ariane Utomo and Meimanat Hosseini Chavoshi. Shireen Jejeebhoy presented the award, followed by words of thanks from Peter. It was a moving ceremony that highlighted Peter McDonald's many professional and personal qualities. The ceremony can be viewed here:
The Laureate award acknowledges members' contributions to the discipline and service to the IUSSP.  In the nomination letter, supporters highlighted Peter McDonald's many contributions to the advancement of population science under four categories: original contributions to demographic research and demographic theory; service to the scientific discipline of demography; contributions to the training of demographers; and service to governments in relating demographic theory and research to policy and planning issues. Below are a few highlights from the nomination letter.
Peter McDonald has made major contributions to understanding demographic change and its policy implications in the Europe, Australia, East Asia, Iran and Indonesia. He is best-known for his work applying gender equity theory to fertility and for his research on nuptiality and culture in developing countries.
Peter McDonald has a long and distinguished record of support for the training of demographers, especially in Indonesia and then in Australia where he was instrumental in establishing a Master's degree program in demography in 1976 at the Australian National University that brought students from across the developing world and trained hundreds of demographers.
He served 12 years, from 2001 to 2013, on the IUSSP Council as a Council Member and as Vice-President and President where he contributed to making the Union's activities more open and accessible. He supported the creation of a new scientific model where activities revolve around a large number of smaller, more highly focused scientific panels of short duration. He contributed to revitalizing IUSSP's quadrennial International Population Conference (IPC), playing a major role in the 2005 Conference in Tours, France, the 2009 Conference in Marrakesh, Morocco, and the 2013 Conference in Busan, Republic of Korea. He fostered strong connections between the regional associations for Europe, Africa and Latin America, and the newly created Asian Population Association, as well as collaboration with the Population Association of America (PAA). He also played a role in getting government support from Australia to host the 2025 International Population Conference in Brisbane.
The letter also recognizes Peter's gift for translating demographic understanding into policy relevant messages and relating demographic theory and research to policy and planning issues. His work has influenced Australian government policy and programmes on international migration, workforce, family, social inclusion, fertility and ageing policies. He is called upon to speak on these issues to governments around the world.  In recognition of his contributions, the Australian Government made him a Member in the Order of Australia in 2008.
For more details on Peter McDonald's career and contributions, you are invited to read the full nomination letter.
Nominations for the 2023 Laureate are open – the deadline to submit nominations is 1 November 2022.
English