South African NOC prepares to welcome IPC2017
The South African National Organising Committee (NOC) of the 28th International Population Conference prepares to welcome the International Community to the City of Cape Town in October 2017.

In August 2014, when Stats South Africa signed the contract with the IUSSP's President Anastasia Gage to host the 28th International Population Conference in Cape Town, South Africa, from 29 October to 4 November 2017, we had little doubt that this conference would be a success.
It therefore gives us great joy to announce that with almost 7 months to go, the country, the population and statistical research fraternity and Statistics South Africa as the host is abuzz with activity in making sure the conference will be a success.
The conference logo has been inspired by the rainbow nation concept of South Africa; its colour reflect our diversity of language, colour and culture – key themes in the programme of the 28th IPC.
The venue of the conference is the Cape Town International Convention Centre (CTICC), the pride of the City of Cape Town.  A state-of-art conference facility that has won many accolades for its compliance to Green Building Frameworks, the CTICC will be the centre of activity of much of the deliberations, networking and engagements to take place at the Conference.
The NOC has been hard at work ensuring that the following areas of work are taken care of and ready for the conference in October:
Opening and Closing ceremonies;
On-site registration facilities;
Arrangement of hotel accommodation for conference delegates;
Concierge services at the Cape Town International Airport and at the CTICC;
Availability of ushers and IT technicians on hand to assist delegates and session organisers;
Simultaneous translation (French-English);
Exhibition Area;
Conference business centre;
State-of-art IT and audio-visual conferencing facilities;
Banqueting, including a true South African Gala Dinner;
Arrangements for parallel and plenary sessions, side meetings and pre-conference workshops;
Accompanying persons programme;
Immigration services;
Safety & Security;
Emergency medical services;
Banking services;
Transport shuttles to/from the Alfred & Victoria Waterfront shopping area;
Study tours to development projects within the City of Cape Town and surrounds;
Tours to Table Mountain, Robben Island, Garden Route, Wine Route, Botanical Gardens and townships;
Africa Day Population & Development Activities and side events;
An opportunity to interact with teachers and learners of Population Geography in schools; and,
Activities of African Young Statisticians & Demographers, who have a lined of program to host their peers from other parts of the world.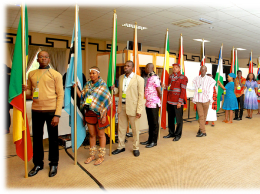 The African people are known for their warm hospitality. It is on this note that South Africa, our African brothers and sisters, development partners, civil society, the research community and the larger African community of practice in population issues, looks forward to welcoming members and affiliates of the IUSSP to the 28th International Population Conference.