You are here
Urban FP training workshop on Policy Engagement and Communication
Zoom, 26 May and 16, 17 & 18 June 2020
The IUSSP Urban Family Planning fellowship program supports 16 early-career professionals in sub-Saharan Africa to carry out research on family planning in a specific city or cities. The program transformed its planned weeklong workshop that was to take place in Nairobi, Kenya, with the Urban Family Planning fellows, into a series of virtual webinars. The African Population and Health Research Centre (APHRC) organized four Zoom webinars on 27 May and 16, 17 & 18 June to provide training on policy engagement and communications for the 16 IUSSP Urban Family Planning fellowship recipients.  
The IUSSP Panel on Family Planning, Fertility and Urban Development was dismayed COVID-19 prevented the project from bringing fellows to APHRC's new training center in Nairobi. However, we were pleased with the training modules APHRC's policy engagement and communications staff, spearheaded by Gaye Agesa, Lynette Kamau and Michelle Mbuthia, developed for the fellows. Using training materials for a workshop for cohort 1 fellows that took place in November 2019, the webinars combined formal presentations with group exercises and discussion. Using Zoom's breakout sessions and screen-sharing tools as well as Google Docs, smaller groups of fellows were able to work together on exercises and work through policy engagement and tracking activities for their specific research projects. The online collaboration with other fellows, trainers, and panel members, made the webinars both informative and interactive. Although internet limitations prevented all fellows from participating consistently, the sessions were recorded for later viewing. 
The first four 2-hour webinars included:
Introduction to Policy Engagement 
Crafting a Compelling Message 
Evidence in Policymaking   
Introduction to Policy Tracking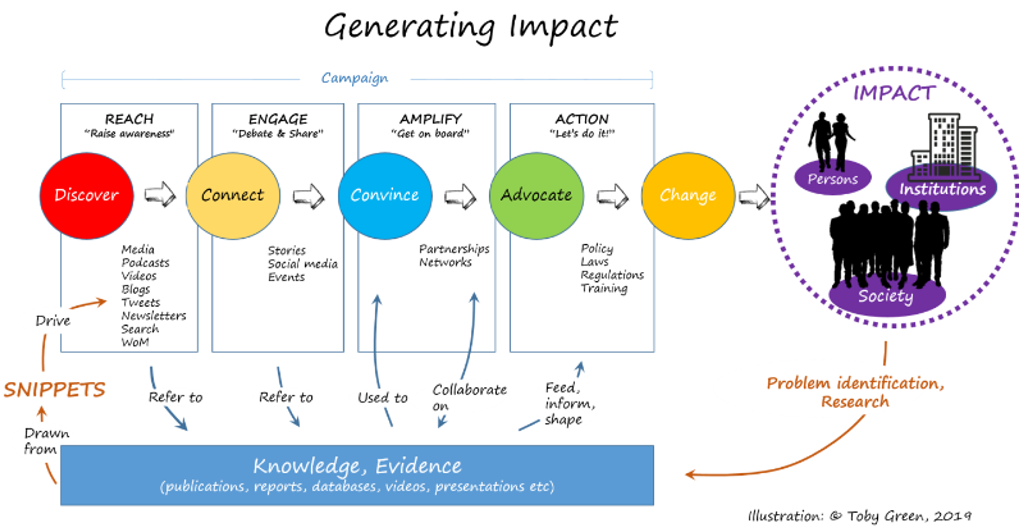 There are plans to have all the sessions translated into and run in French so that all the francophone fellows can fully participate. There will also be additional webinars on other topics.
Training on policy engagement and communication is a vital facet of the Urban Family Planning Fellowship project funded by a grant from the Bill & Melinda Gates Foundation. As part of their research, fellows review the policy context for family planning and urban development in the urban areas they are studying to ensure policy relevance. At the appropriate time, fellows will engage with policymakers, program managers, and other decision makers in the health and urban planning communities to communicate research results. The project includes mentoring and training in policy outreach and the communication of results to policymakers. In addition to research mentors, the project supports urban policy partners for each fellow to help them navigate the urban policy context in their research site. 
---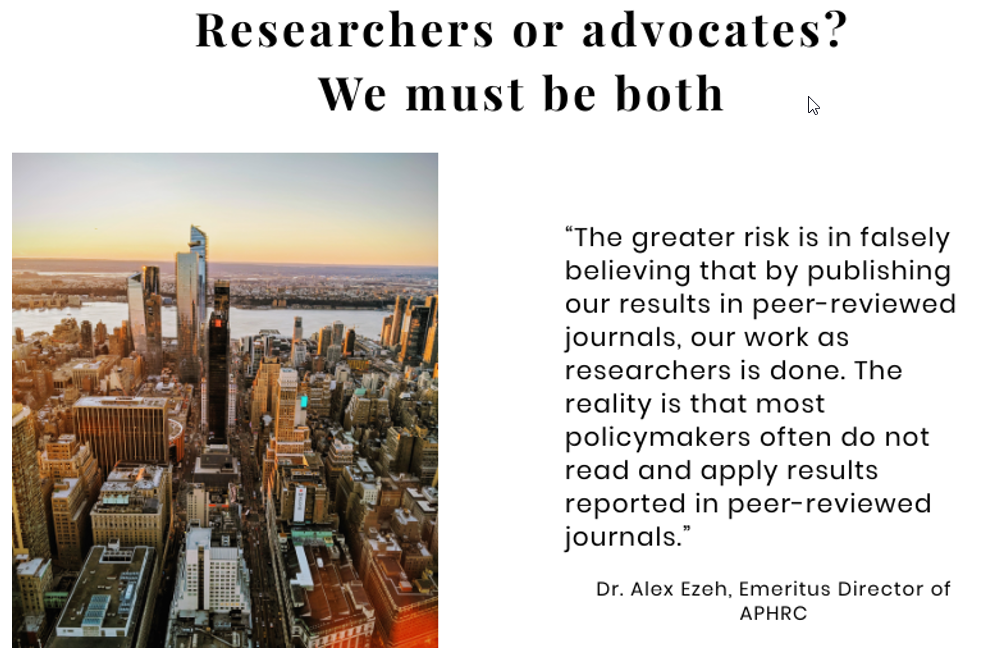 English