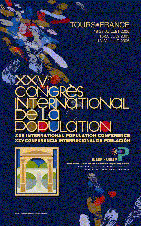 At the kind invitation of the French Government, the XXV IUSSP International Population Conference was held at the Vinci Convention Centre in the city of Tours, France. 18-23 July 2005
Opening session Speech by Jacques Vallin, president of the IUSSP 

Conference Report 

Conference evaluation report 

745 communications were presented in 162 regular sessions, five poster sessions, four plenary sessions, three debate sessions, 3 additional training sessions and 17 side meetings.
In addition, on Tuesday, 19 July, the UNFPA hosted a special session entitled "ICPD Vision: How Far Has the Eleven-Year Journey Taken Us?"
On Thursday, 21 July, the French National Organising Committee (NOC) hosted 16 Sessions and one plenary sessions during the European Population Day on the theme of The Future of Europe's Population.
Two meetings of the General Assembly of IUSSP members also took place.
Scientific Programme
 (ISSN 2225-1448)
All conference papers are available on the Programme Website hosted by Princeton University*: http://iussp2005.princeton.edu.  
*The IUSSP is very grateful to the Office of Population Research and Princeton University for hosting the Scientific Programme website on its server and providing the software which powers it. We are particularly grateful to Dr.Germán Rodríguez for developing and adapting the software to our needs and for providing technical support.