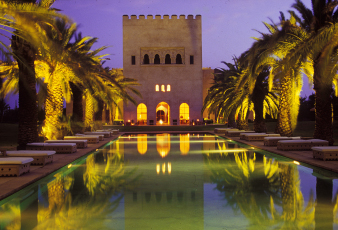 At the kind invitation of the Moroccan Government, the XXVI IUSSP International Population Conference was held at the Palais des Congrès in Marrakech, Morocco. This was the first IUSSP International Population Conference to be held on the African continent and in an Arab country.
IUSSP Marrakech Conference Report

General Information Bulletin

(not available currently)
The Conference opened on Sunday, 27 September 2009, and ended on Friday, 2 October 2009. It included 219 regular scientific sessions, 5 poster sessions, 3 training sessions, as well as 4 plenary sessions, 41 side meetings and 46 exhibition booths. Trilingual simultaneous translation in English, French and Arabic was provided for all plenary sessions as well as for the 20 sessions organized in the Ambassadors' amphitheatre, which included all sessions organized by the Moroccan National Organizing Committee on population issues in the Arab world. In addition, simultaneous translation in English and French was provided for 160 regular sessions.
Scientific Programme
(ISSN 2225-1448)
All conference papers are available on the Programme Website hosted by Princeton University*: https://ipc2009.popconf.org/
*The IUSSP is very grateful to the Office of Population Research and Princeton University for hosting the Scientific Programme website on its server and providing the software which powers it. We are particularly grateful to Dr.Germán Rodríguez for developing and adapting the software to our needs and for providing technical support.
Video Summary