You are here
Call for Proposals: 2nd Round of Fellowships on Family Planning, Fertility and Urban Development
The Call for Proposals is now available (see full proposal) for the 2nd round of fellowships for early career researchers in sub-Saharan Africa and South Asia to produce policy-relevant evidence on family planning and fertility in cities and towns and their links to urban welfare.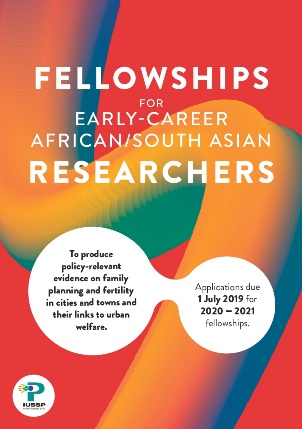 This IUSSP project seeks to link the fields of family planning, fertility and population change with the field of urban development creating a cadre of fellows devoted to the study of these intersections. The fellowships offer funding to early-career researchers in sub-Saharan Africa and South Asia to produce policy relevant evidence on family planning, fertility and population change in cities and towns and their implications for urban welfare. The fellowships are modest, meant to support 1-2 years of part-time research to give early career researchers the opportunity to analyze secondary data and publish their results. Funds are also available to conduct small scale field research instead of, or as a supplement to, secondary analysis.
An innovative aspect of this project is the emphasis from the start on policy relevance of the research. Fellows are expected to review the policy context for family planning in the urban areas they will be working and where appropriate, engage policy makers, program managers and other actors in the community in the research project conception and design, and communicate the results to these audiences when the studies are completed.  In addition to funds for research, the project will include mentoring and training in policy outreach, writing for scientific publication and the communication of results to policy makers as well as training to hone specific research skills and techniques or acquire new skills.  Annual workshops will be held to bring fellows together to stimulate networking.
Recognizing that family planning and fertility can be associated with urban development via health, economic productivity, food security, education, etc., we welcome proposals from demographers, geographers, economists and social and political scientists who are citizens of countries in sub-Saharan Africa or South Asia. Eligible applicants will have received their PhD degree within the past ten years (or be a medical doctor who completed residency within the past decade).  Evidence of research skills is also required.
Interested candidates should submit a 2-page concept note by 15 April 2019.  The concept note will be rapidly reviewed and authors of promising research proposals will be invited to submit a full proposal by 1 July 2019 deadline. Approval of the concept note is required for candidates to proceed to submit full application. All stages of the application will be done via a web portal. Promising applicants will be invited to present their research proposal at a workshop in Kampala, Uganda 15-17 November 2019 – just before the African Population Conference. 
For more information about the goals of the IUSSP Project on Family Planning, Fertility and Urban Development, Panel Co-Chair Trudy Harpham has created two short videos :
Arcs – explores the links between fertility and family planning and urban development
Policy,  defines what is meant by policy  and policy relevant research. 
These videos are to assist applicants to better understand the objectives of project so that these are appropriately addressed in the research proposals.  
For more information, on the programme please see the articles in this bulletin on IUSSP activities and events at the International Conference on Family Planning (ICFP 2018):  
______________________________________
This project is funded by a grant (OPP1179495) from the Bill & Melinda Gates Foundation to IUSSP to support a 4-year project to produce policy-relevant evidence on the effects of family planning and fertility change on urban welfare.
English