Family planning, fertility and urban welfare in sub-Saharan Africa and South Asia
Kigali, Rwanda on 14 November 2018
The IUSSP organized a panel session* on Family planning, fertility and urban welfare in the rapidly growing cities of sub-Saharan Africa and South Asia: Policy Implications during the International Conference on Family Planning (ICFP) in Kigali, Rwanda on 14 November. The session emphasized the important contributions of family planning to urban welfare in sub-Saharan Africa and South Asia and reviewed the challenges and opportunities of working in rapidly growing cities.  The Panel was organized by Shireen Jejeebhoy and featured Zeba Sathar as moderator with speakers Ilene Speizer, Siddarth Agarwal, Joyce Mumah and Eliya Zulu. Videotaped clips of the presentations and discussions are provided below. Click on highlighted text to access background research articles.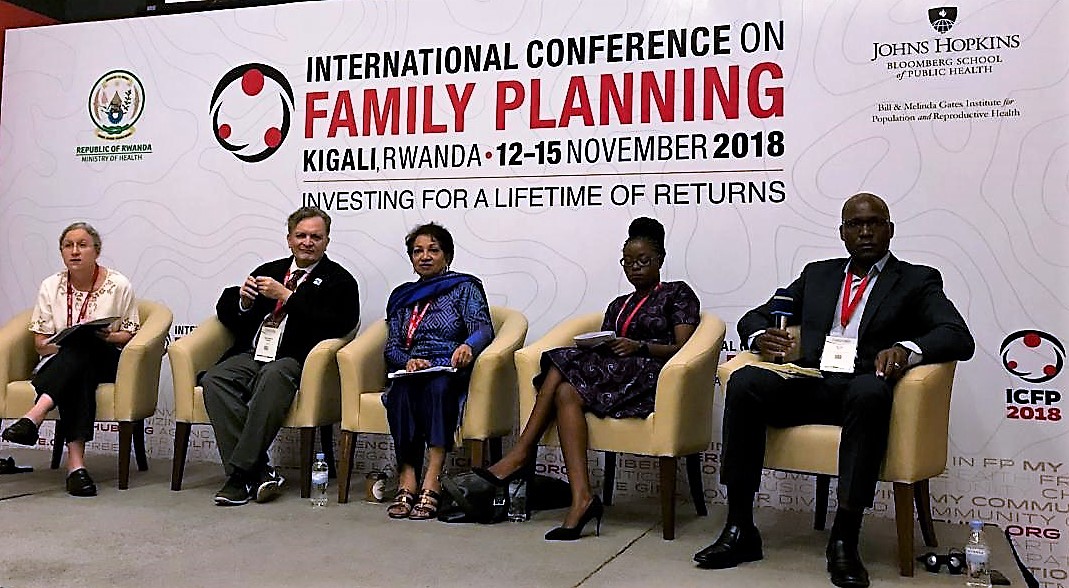 Why focus on family planning in urban areas? 
Zeba Sathar (Senior Associate and Country Director, Population Council Pakistan), set the stage by focusing on the rapid urbanization of sub-Saharan Africa and South Asia and its consequences for urban populations.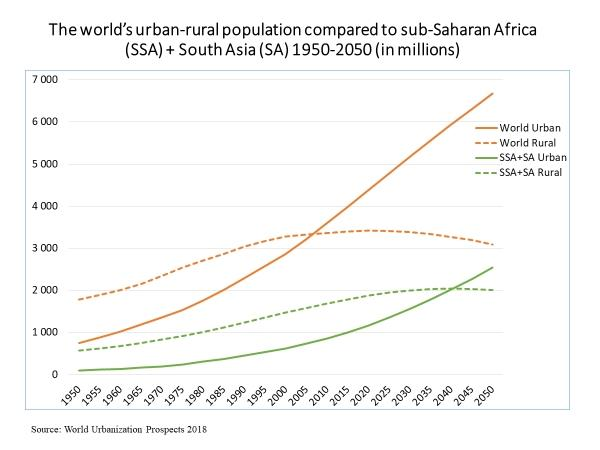 World population is expected to increase by 2.4 billion between 2015 and 2050, three-fourths of this increase will occur in sub-Saharan Africa and South Asia, regions that account for over 80% of the world population living in absolute poverty. The vast majority of this population growth will take place in urban areas. By 2040, the urban population is expected to exceed the rural population in sub-Saharan Africa and South Asia and reach 60% in 2050 (see graph).  Sub-Saharan Africa and South Asia exhibit the highest rates of urban population growth, currently estimated at 3.8% per year for sub-Saharan Africa (doubling every 18 years), and 2.4% per year for South Asia (doubling every 29 years).
While many new arrivals in the informal neighborhoods of cities are rural-urban migrants, much of this growth will be due to the larger number of births than deaths among urban residents. According to Eliya Zulu, 60% of urban population growth in sub-Saharan Africa, will be due to births rather than immigration.
Special challenges for implementing FP programs
Though urban residents have generally lower fertility than rural dwellers, urban areas are more unequal than rural areas, and fertility of the urban poor is much higher than for wealthier urban dwellers. In Nairobi, Kenya, 60-70 % of the urban population lives in slums or slum-like conditions.  Populations living in urban slums and temporary settlements lack access to basic health services including family planning and unmet need for modern contraception and unwanted fertility remain high.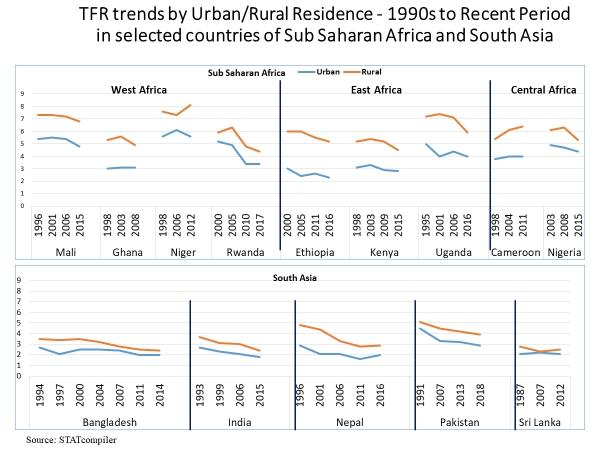 The rapid growth of urban settlements, especially temporary settlements and urban slums, and the heterogeneity of urban populations pose special challenges for implementing family planning and reproductive health programs.  Data for the poorest and most vulnerable populations in urban slums is often  limited. Most of the emphasis and funds for family planning and reproductive health have focused on rural areas, yet investment in urban areas has the potential to achieve enormous gains for urban health, education, food security, living conditions, employment and incomes.
Critical issues and questions
The panelists brought their research and experience working in urban areas of Africa and South Asia to identify critical issues and questions including:
What aspects of urban life must researchers, policy makers and program implementers take into account in both research and policy design?
What do we need in terms of data, analysis and evidence to convince policy makers to invest in focusing on the needs and welfare of urban residents?
What aspects of the diverse urban populations complicate the task of comprehending and addressing their needs?
What program elements have been found to hold promise in increasing access to services for disadvantaged groups in these settings?
What have we learned about working in urban areas for informing the long-term success of these programs?
Ilene Spiezer (University of North Carolina at Chapel Hill)  focused on the hurdle's poor women, adolescents and youth in urban areas face adopting family planning and accessing sexual and reproductive health care. An evaluation of the Bill & Melinda Gates Foundation funded Urban Reproductive Health Initiative (URHI) in Kenya, Nigeria, Senegal, and the state of Uttar Pradesh, India shows that poor urban women will adopt a contraceptive method when the following factors are present:
quality family planning services are offered,
programs address longstanding myths and misperceptions about family planning through community outreach and interpersonal activities,
demand creation activities are underway to change fertility desires, increase knowledge of the benefits of FP, or increase the availability of a choice of methods.
Joyce Mumah (Independent Consultant)   discussed research carried out with the Strengthening Evidence for Programming on Unintended Pregnancy (STEP UP) project in Korogocho and Viwandani slums of Nairobi, Kenya. She argues that integrated interventions are more successful than single intervention FP programs alone in reducing poverty and can lead to significant declines in maternal and child mortality rates.  The Government of Kenya and its donor partners invested substantial resources to improve health and economic outcomes, especially among vulnerable groups like the urban poor in informal settlements.  In addition to funding contraceptive supplies, other health and social services were offered including free treatment for children under-5 at public health facilities, free maternity care, free primary health care, slum upgrades, etc.   Integrated approaches while more effective are also more intensive and costlier to implement and therefore less appealing to donors with short funding cycles. The challenge is to convince more donors and governments to invest in these integrated approaches that hold the most promise for scale-up and sustainability.
Siddharth Agarwal (Urban Health Resource Centre, India) drew on his experience working with excluded populations in India's urban slums to advise those seeking to work with the urban poor of the need to listen to and work with members of the community in designing and implementing family planning programmes. For instance, empowering knowledgeable women from slum and informal settlements to promote education of girls and boys, encourage postponement of marriage and child bearing for adolescent girls, and create awareness on and access to modern contraceptive services. He discussed the power of mapping local neighborhoods with community members to identify households for targeted interventions – such as households with newlywed couples who might want to delay child-bearing or households with girls reaching puberty to encourage families to delay their marriage and keep them in school. In working with local governments and ministries it is important, when available, to use their approved data sources to inspire cooperation.  
Eliya Zulu (African Institute for Development Policy – AFIDEP)  focused on policy and strategic level challenges at the national level and the implications of rapid urban growth for governments. Of key importance is youth and the role family planning can make in furthering their opportunities for education and employment. Governments need information on the investments required to reap a demographic dividend from a large young labor force, including investments in family planning, education, and employment opportunities for youth.    
The short presentations were followed by questions and discussion with the moderator and later the audience that touched on a range of topics including research needs, advice collecting data in poor urban settings and reaching vulnerable or excluded urban populations as well as effective outreach to community leaders and government officials at the city and national levels. It was a well-attended session with lively discussion.
Click here for access to the video hub to learn more about the ICFP2018 conference programme and sessions.
* This activity is funded by a grant (OPP1179495) from the Bill & Melinda Gates Foundation to IUSSP to support a 4-year project to produce policy-relevant evidence on the effects of family planning and fertility change on urban welfare. The grant will provide fellowships to early-to-mid career researchers in sub-Saharan Africa and South Asia to conduct research. The project includes mentoring and training activities as well as funds for policy outreach at local, national and international levels. The ultimate aim of the project is to raise awareness of the contributions of family planning to sustainable cities among urban planners and policy makers and to put family planning on the urban policy agenda where it has been largely absent.