The Francophone African Network (FraNet)
at the 7th African Population Conference
Pretoria, South Africa, 29 November-5 December 2015 
The IUSSP Network for Strengthening Demographic Training in Francophone Africa (FraNet) organized two side meetings at the 7th African Population Conference and invited four African journalists to report on research presented on the demographic dividend. 
The first meeting, organized on 29 November, with Firmin Zinvi and Gervais Béninguissé as chairs, included 17 participants. The meeting offered the participants the opportunity to review in detail the application of decomposition methods to the analysis of the economic and schooling dividend.  An extension of the dividend to health care is planned for the future.  Following this theoretical presentation, Charles Mouté reviewed recent results of an analysis of the economic dividend using decomposition methods for 46 African countries.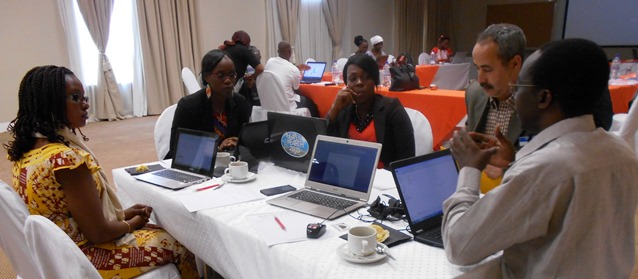 The participants then elaborated a common template for summarizing the results of the economic dividend for all 46 countries.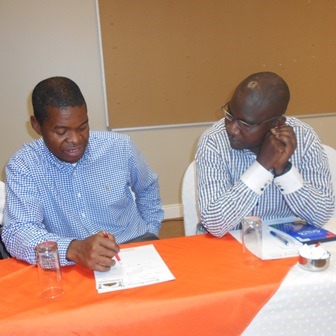 This included:
1. A brief description of the national context for each country;
2. A description of historical trends and a projection of the future dependency ratio;
3. A description of the evolution of the country in chain of events that are part of the dependency process;
4. An analysis accounting for the contribution of diverse factors, including a transformation of the population age structure, on economic growth. 
The template will be sent to all the group members for a complete analysis. A team of volunteers was constituted to reread and synthesize the final report on the economic and school dividend.
At the same time but in a different room, Parfait Eloundou-Enyegue and Jean Francois Kobiane (in collaboration with the Population Reference Bureau) briefed the participating journalists about the definition, theoretical foundations and prospects of a demographic dividend in sub-Saharan Africa. 

A second meeting of the group took place on 5 December with the participation of four journalists who participated in the conference with the goal of reporting on results of research on the dividend. After a general debriefing and discussion with the participants about their general impressions of the conference and lessons learned, there followed a discussion with the journalists on communication issues. The meeting also addressed progress on reports, notably on the economic dividend and a monograph on various decomposition methods and their application to the economic dividend.
See : List of researchers and journalists who participated in these meetings.