Summer Institute in Computational Social Science
Cape Town, South Africa, 18-29 June 2018
The Summer Institute in Computational Social Science (SICSS) held a two-week training workshop from June 18 to June 29 at the University of Cape Town, run by Dr.  Vissého Adjiwanou, Senior Lecturer in Demography and Quantitative Methods at the Center for Actuarial Research (CARe) at the University of Cape Town (UCT), and the chair of the Scientific Panel on Computational Social Science at the Union for African Population Studies (UAPS). This year's Summer Institute is an institutional collaboration with the main site at Duke University and six other sites in the UNited States and Finland. The Cape Town workshop has provided African scholars and students from various disciplines the opportunity to learn new quantitative methodologies related to digital trace data and to hone their research capabilities.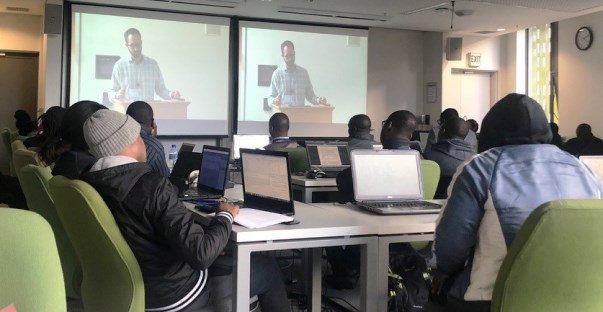 The Summer Institute in Cape Town has adopted a dual teaching approach which combined livestream lectures from Duke University with onsite presentations. During the two weeks of the Summer Institute, several lectures and talks were given by experts in the field of Computational Social Science. At the opening, Vissého Adjiwanou presented the importance of the Summer Institute for African scholars and led discussions on issues about estimating about causality in Social Science, and considered how new methods and data can contribute to a better understanding of social phenomena in sub-Saharan Africa. The lectures given at the SICSS then covered topics ranging from ethics, surveys and experiments in the digital age, by Matthew Salganik (Princeton University), to digital trace data collection and analysis (text analysis, topic modeling and network analysis) by Chris Bail (Duke University) by livestream from Duke University. Due to the six-hour time difference between Cape Town and Duke University, participants in Cape Town were unable to listen directly to the guest speakers at Duke University but watched recorded versions. The videos of these talks are freely available online to participants. 
Onsite in Cape Town, the participants attended various lectures and talks on diverse topics. Nick Feamster delivered a lecture on machine learning and its application to detect "fake news" from the web. Marshini Chetty gave a talk on ethics and on human-computer interaction. Tom Moultrie (Director of CARe) introduced the participants to the opportunities provided by Computational Social Science for monitoring the Sustainable Development Goals and presented some challenges with working with digital trace data. Marivate Vukosi from The Council for Scientific and Industrial Research (CSIR) spoke of how data science should be used for public good. He presented various research projects he conducts in the field from road security to safety and crime incident detection on social media. The Summer Institute has also benefited from the participation of Kim Ingle from the Southern Africa Labor and Development research Unit (SALDRU) at UCT who introduced the National Income Dynamics Study (NIDS) to the participants. Finally, by Skype, Ridhi Kashyap, associate professor of social demography at the University of Oxford, presented her work on sex selection in India using Facebook Data. These various and highly qualitative research presentation made the Summer Institute one of its kind in sub-Saharan Africa, where participants learned from specialists from Africa and around the world.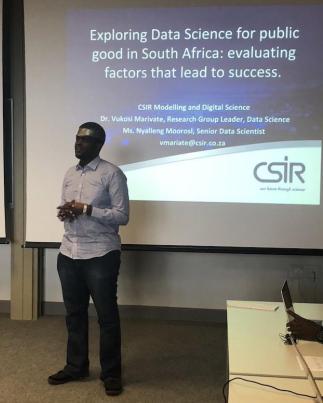 In the second week, the participants worked in five small groups on various applied project, and they presented their results on the last day of the Institute. The first group worked to map research on gender-based violence (GBV) from what lay people think about the issue by conducting text analysis from research articles and twitter users. The second group project focused on measuring depression and stress-related issues by analyzing tweets in South Africa. They considered three sets of people: those who tweet about depression and have experienced it (Treatment Group); those who just tweet about it (Control Group 1); and those who didn't tweet about it (Control group 2). The prevalence of depression among control group 1 was then predicted by comparing their characteristics with those of the treatment group. The third group worked to understand the environment of published news in South Africa. To do this, they analyzed publishers' social tweeter network, and tweets from a topic and network analysis perspective. Finally, two other groups took an usual social science research approach to working on divorce and school dropouts in South Africa, based on panel data from the NIDS. They combined traditional statistical approaches with machine learning to better understand and predict these outcomes. These research projects should continue after the end of the workshop, and we hope to publish their findings in a special edition of the African Population Studies journal.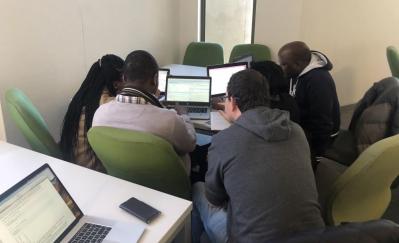 For many participants, this summer institute constituted both their first use of the R Software and their introduction to digital trace data methodologies. This proved to be a challenge for several participants, and for next year's Summer Institute workshop, we plan to notify the participants much earlier of their admission, so as to permit them to get up to speed prior to the workshop by taking recommended online courses. We hope also that several participants will start using R in their own courses, making it easier for their best students to enroll in next year's Summer Institute workshop. This summer institute has been a real opportunity for establishing new collaborations for many participants. The group project work developed during the second week proved to be an extraordinary and successful experience. There are no other opportunities offered elsewhere on the continent on the analysis of digital trace data. The success of the Summer Institute is obvious as the unsolicited comments we received and the final evaluation of the training. About 85% of the participants responded to that survey that they will definitively advise others to apply for the Summer Institute next year. Almost all of the participants also expressed their intention to make use in future of the methodologies learned during the Summer Institute.
A final source of satisfaction is to bring many scholars from outside Cape Town and to give opportunities to Master and PhD students together to attend the Summer Institute. Half of the 26 participants of the Summer Institute came from outside Cape Town, with foreign participants coming from 9 countries in both French-speaking countries (Benin,  Burkina Faso and Togo) and English-speaking countries (Ghana, Malawi, Nigeria, Swaziland, Uganda, United Kingdom). This was made possible in large part by financial support provided by the International Union for the Scientific Study of Population (IUSSP). In addition, as the participants came from diverse disciplines, the workshop allowed participants the opportunity to exchange with others on issues of common interest and thus to break down disciplinary boundaries.
---