The 2017 International Population Conference
Cape Town, South Africa, 29 October-3 November 2017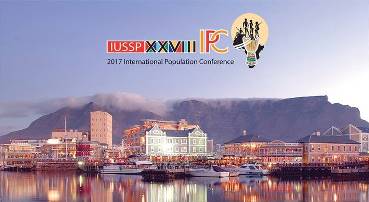 Links:
The XXVIII International Population Conference was held in Cape Town, South Africa, from 29 October to 3 November 2017. Over 1,900 population scientists, students and policy makers from 100 countries and 116 nationalities attended the conference to present and share their research and/or exchange on population issues in formal and informal events planned during the Conference. The IUSSP is grateful to the South African National Organizing Committee (NOC) for their extraordinary hospitality and the efforts they made to organize this Conference. The IUSSP is also grateful to its donors, without whom this conference could not have taken place. And finally, the IUSSP thanks all those who reviewed and selected papers before the conference and all those who participated in the conference. 
Conference figures:
4,572 submissions to the Call for Papers
1,524 papers included on the programme
718 papers presented in 215 regular sessions
806 posters presented in 5 Poster sessions
2,459 population scientists listed as authors, session chairs and discussants
9 NOC Africa Day sessions
6 plenary sessions 
10 activities dedicated to training
26 side meetings 
29 exhibitors 
Survey (updated)
A survey of IPC2017 participants was conducted online from 29 November to 31 December 2017.  Based on 812 respondents (response ratewas 50%), we can confirm feedback received in Cape Town from participants and from a survey of session chairs concerning the scientific quality of the Conference. Forty-four percent of those responding to the survey rated the scientific quality as excellent and 48% very good, a jump in ratings compared to the 3 previous conferences where 39% rated Busan (2013) as excellent (and 46% very good), 30% rated Marrakech (2009) as excellent (and 49% very good), and 38% rated Tours (2005) excellent (and 44% very good). Whether this perceived increase is due to a general improvement in the quality of research presented or to the implementation of a double review of submitted abstracts for this conference is not possible to determine but we hope this trend continues. Participants also greatly appreciated the quality of their stay in Cape Town with 53% rating it as excellent and 38% very good. 
The Conference opened with Risenga Maluleke (Deputy Director-General for Statistical Collections and Outreach, Stats SA), serving as the Master of ceremony introducing live addresses by Anastasia Gage (IUSSP President), Pali Lehohla (Statistician-General of South Africa and President of the International Organizing Committee), Jeff Radebe (Minister in the Presidency for Planning, Monitoring and Evaluation); and a video address by Natalia Kanem (UNFPA Executive Director). Tukufu Zuberi (Lasry Family Professor of Race Relations at the University of Pennsylvania) gave the keynote address on the Population Principal of Race. 

   From left to right: Pali Lehohla, Jeff Radebe, Anastasia Gage, Tukufu Zuberi.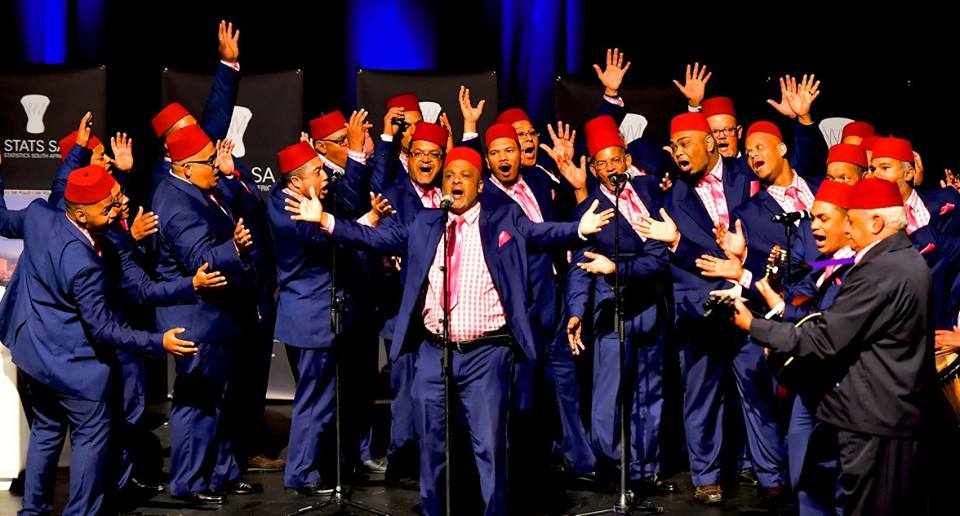 The Malay choir of the Cape Town Young Men's Sporting Club provided an interlude of musical entertainment.  The ceremony was followed by a Welcome Reception hosted by Statistics South Africa. The Ceremony can be viewed online.
Plenary Sessions
UNFPA Plenary – Data for development: strengthening national capacity in population data 
Chair: Benoit Kalasa, United Nations Population Fund (UNFPA)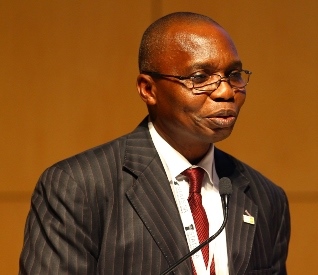 Speakers:
Carmen Barroso, Independent Accountability Panel; 
Parfait Eloundou-Enyegue, Cornell University; 
Philomena Efua Nyarko, University of Ghana; 
Paulo Saad, UN-ECLAC; 
Marwan Khawaja, UN-ESCWA; 
Pali Lehohla, Statistics South Africa
IUSSP Plenary Debate: International migration in the 21st century: Should borders be more open? 
Chair: John Wilmoth, United Nations Population Division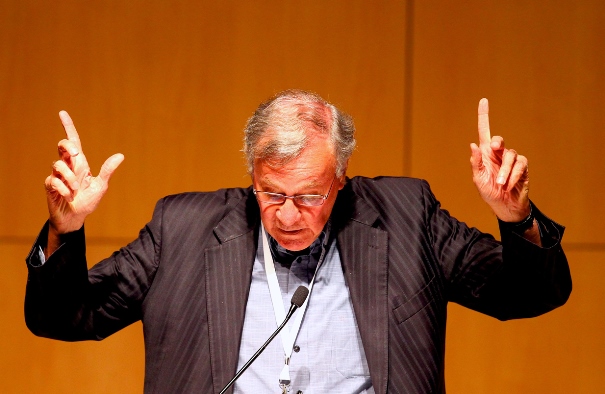 Speakers:
Aris Ananta, Universitas Indonesia
Alicia Adsera, Princeton University
Peter McDonald, University of Melbourne
Blessing Mberu, African Population and Health Research Center (APHRC)
Africa Day Plenary: Demographic data challenges for reporting on the Sustainable Development Goals in Africa 
Chair: Diego Iturralde, Statistics South Africa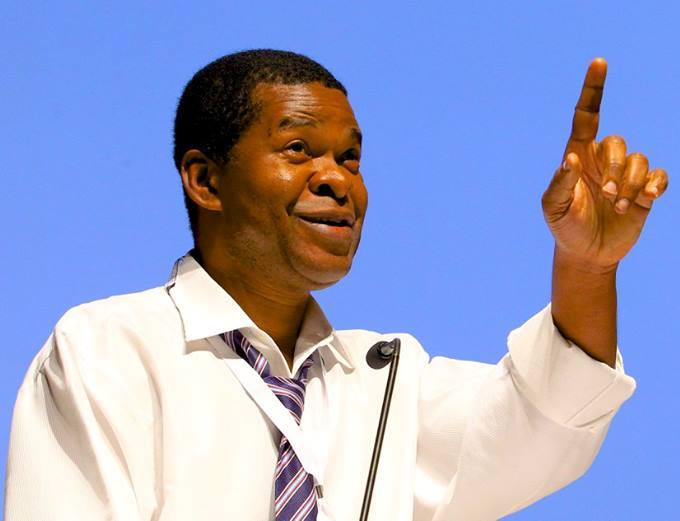 Speakers:
Julitta Onabanjo, United Nations Population Fund (UNFPA)
Parfait Eloundou-Enyegue, Cornell University
Delali Badasu, Regional Institute for Population Studies, University of Ghana, Legon
IUSSP Plenary Debate: Is very low fertility good or bad for the family, gender and society?
Chair: Fatima Juarez, El Colegio de México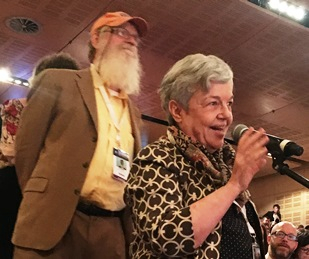 Speakers:
Eduardo L. G. Rios-Neto, CEDEPLAR - Universidade Federal de Minas Gerais
Eric Udjo, University of South Africa
Zeba Sathar, Population Council
Wendy Sigle, London School of Economics and Political Science (LSE)
Sponsored Research Leader Sessions
For the first time, the IUSSP offered research centers and institutions interested in population issues the opportunity to organize sessions on a research topic of special importance to them. Eleven Sponsored Sessions were included in the programme. The funds raised from these sessions were used to provide travel support to developing country participants.
The programme also included 5 invited sessions: a training session on "All you want to know about publishing in a peer-reviewed journal"; a session organized by the UN Population Division on the Global Compact for Safe, Orderly and Regular Migration; two sessions organized by the regional population associations on International Migration (APA/UAPS) and on Population Ageing (ALAP/EAPS); and a session featuring  five IUSSP Laureates, who were invited to share their reflections on the present and future of demography and population science.

   From left to right: five IUSSP Laureates – Jane Menken, Ron Lee, Cheikh Mbacké, John
   Bongaarts and José Miguel Guzman – and IUSSP Vice-President Tom LeGrand.
Africa Day sessions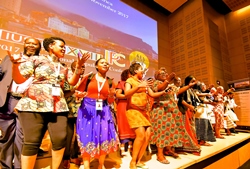 Nine of the sessions in the programme were organized by the South African National Organizing Committee to address topics of particular relevance for African countries, beginning with an opening session on "African censuses in 2020: will they be the best ever?" and closing with the Africa Day plenary on "Demographic data challenges for reporting on the Sustainable Development Goals in Africa."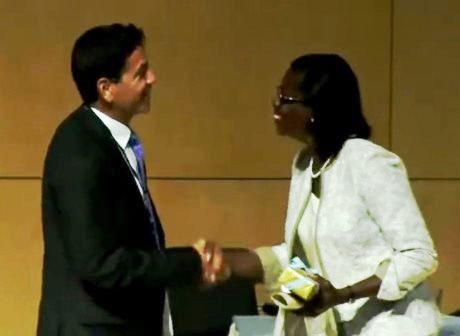 2017 IUSSP Laureate
IUSSP President, Anastasia Gage presented the 2017 IUSSP Laureate Award to José Miguel Guzmán on 30 October 2017 following the UNFPA Plenary. See 2017 IUSSP Laureate award ceremony.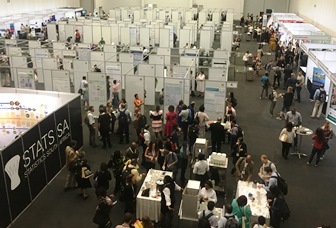 Conference participants could visit exhibit booths set up by 29 institutions, publishers, research institutes and other organizations working in the population field. The exhibit booths benefited from coffee breaks and lunches being served in the same exhibit hall. The preliminary results of the conference survey indicate that 87% of respondents visited the exhibit booths. 
Twenty-six side meetings were organized during the Conference. The preliminary results of the conference survey indicate that 47% of respondents attended at least one side meeting. The IUSSP organized 5 of these meetings before the conference, two meetings of the Francophone Africa Network and 3 on Data Revolution activities: 

The 28th IUSSP General Assembly was held on 30 October and 1 November 2017, during which Secretary General and Treasurer France Meslé reported on activities and finances for the past four years. The General Assembly also confirmed the election of the Committee on Nominations, approved the Constitutional amendments, and authorized IUSSP to become an institutional member of the Global Partnership for Sustainable Development Data. The General Assembly report is available on the IUSSP website.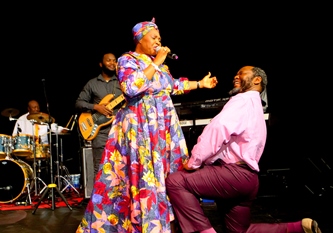 Social and cultural activities 
In addition to the Welcome Reception on the first day of the Conference, the National Organizing Committee organized a special gala dinner on Thursday 2 November, which ended with a performance by the famous South African singer Yvonne Chaka Chaka and her band.  
The Closing Ceremony, chaired by Anastasia Gage (outgoing IUSSP President) included closing addresses by Risenga Maluleke (Statistician-General of South Africa, as he replaced newly retired Pali Lehohla during the Conference), Tom LeGrand (incoming IUSSP President address), a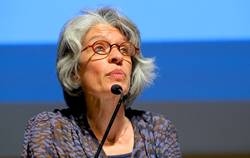 presentation by the recipient of the 2017 IUSSP–Mattei Dogan Foundation Award for Comparative Research in Demography, Anne Gauthier (Netherlands Interdisciplinary Demographic Institute – NIDI) on Comparative perspectives on the priceless child.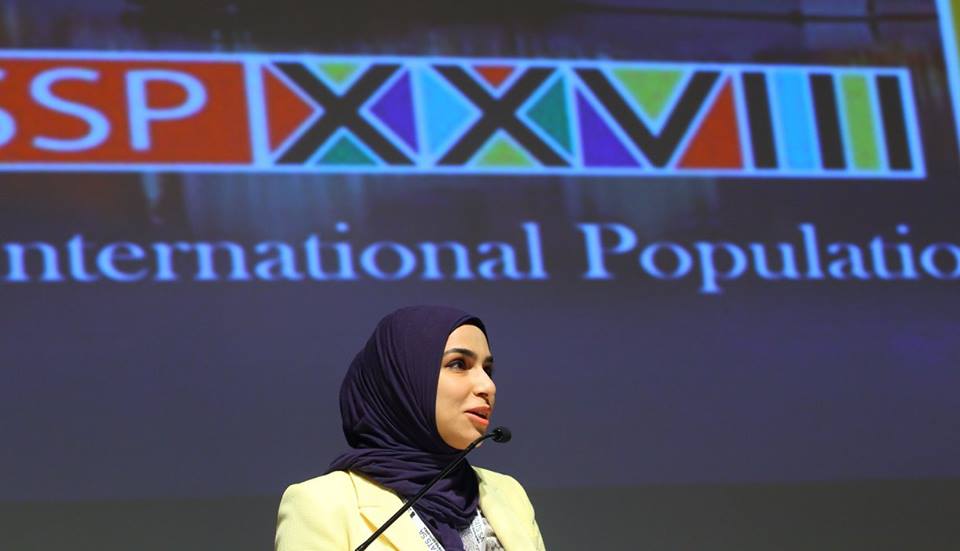 It also included a thank-you speech on behalf of Junior Demographers given by Doaa Hammoudeh (Birzeit University) and the Poster Awards Ceremony, chaired by IUSSP Council members Edith Pantelides and Oystein Kravdal.
Poster Awards
Five poster juries, coordinated by Edith Pantelides and Oystein Kravdal, selected each day the best poster of the day. The 5 distinguished posters are listed below: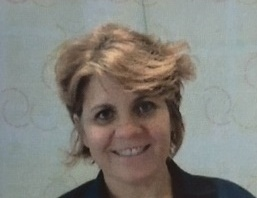 Best Poster of day 1: 
Gender Differentials in Concurrent Relationships among Youth in Urban West Africa: Evidence from Ouagadougou, Anne Calvès, Université de Montréal.
Best Poster of day 2: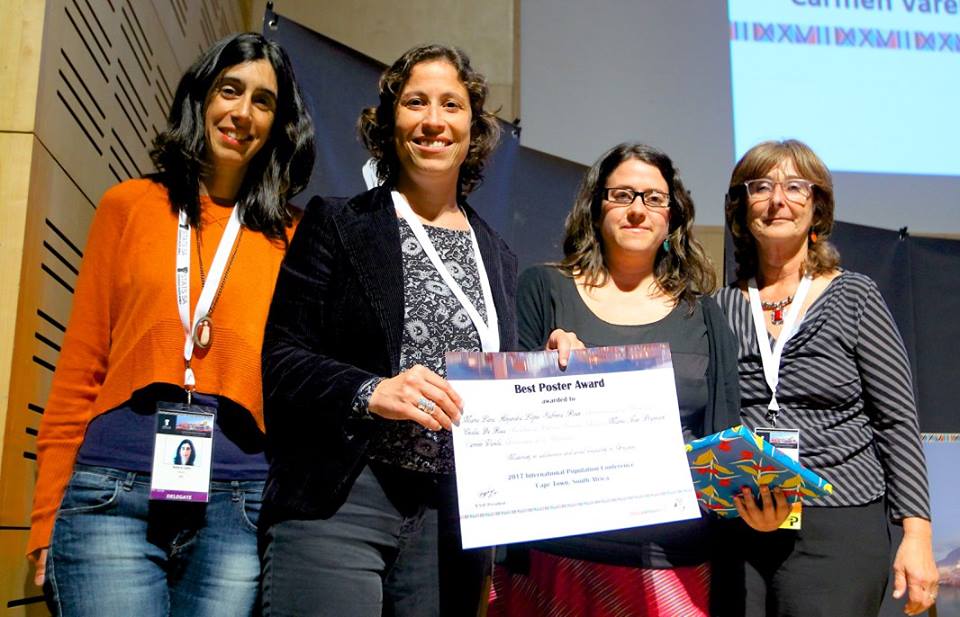 Maternity in adolescence and social inequality in Uruguay, María Lara, Alejandra López, Sabrina Rossi, Universidad de la Republica; Cecilia De Rosa, Facultad de Ciencias Sociales, UDELAR; María José Doyenart, Carmen Varela, Universidad de la República.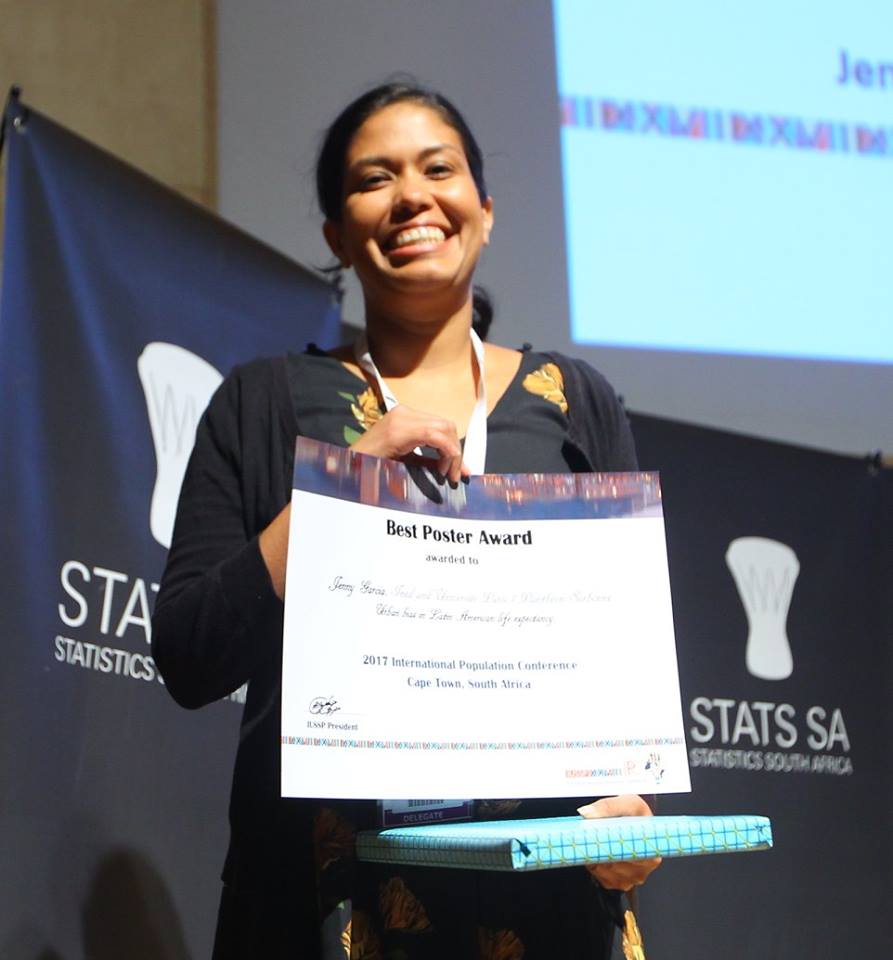 Best Poster of day 3: 
Urban bias in Latin American life expectancy, Jenny Garcia, INED / Université Paris 1 Panthéon-Sorbonne
Best Poster of day 4: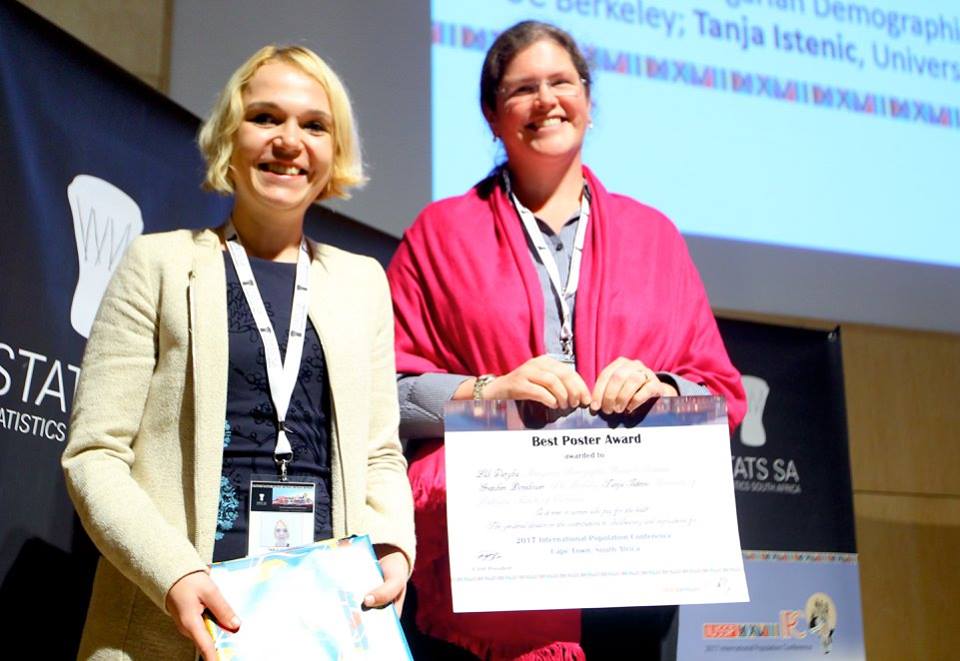 Is it men or women who pay for the kids? The gendered division in the contributions to childbearing and implications for fertility, Lili Vargha, Hungarian Demographic Research Institute; Gretchen Donehower, UC Berkeley; Tanja Istenic, University of Ljubljana, Faculty of Economics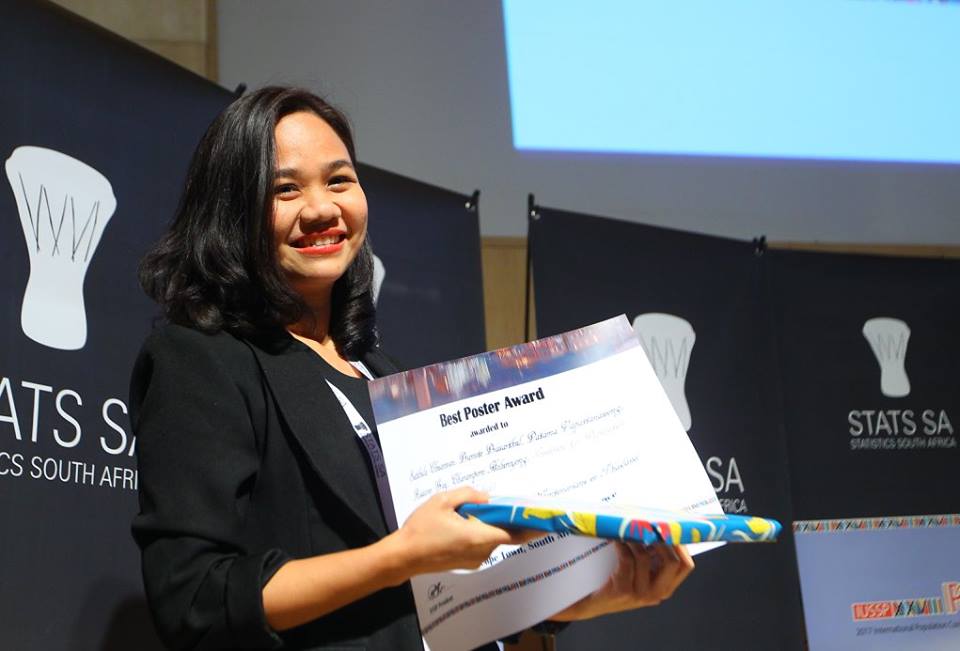 Best Poster of day 5: 
Verification of the Reported Age of Centenarians in Thailand, Sutthida Chuanwan, Pramote Prasartkul, Patama Vapattanawong, Rossarin Gray, Charamporn Holumyong, Institute for Population and Social Research, Mahidol University.
The Closing Ceremony ended with the announcement of the XXIX International Population Conference venue in 2021 with a slide presentation of Hyderabad, India, the city chosen to host the 2021 Conference.